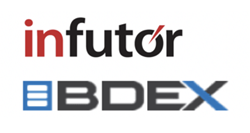 "We are excited to introduce the Total Mobile Ad ID Solution as this robust dataset will help marketers improve omnichannel marketing and onboarding, extend digital reach and empower brands to resolve digital consumer identities within their first party CRM." -- Gary Walter, CEO of Infutor
OAKBROOK TERRACE, Ill. (PRWEB) April 21, 2020
As marketers look for cookie-less ways to identify customers in a privacy-compliant manner, consumer identity management expert Infutor today announced that leading data exchange BDEX will have early access to its Total Mobile Ad ID Solution.
BDEX is providing brand, retail and agency customers with access to comprehensive digital identity data through Infutor's Total Mobile Ad ID Solution. Infutor's on-premise data option allows marketers to implement digital identity resolution and extend digital reach to achieve higher mobile advertising conversion rates and ROI.
"In a data world that's looking for alternatives to cookie-based digital targeting, the BDEX-Infutor partnership is incredibly timely," said David Finkelstein, BDEX's CEO. "Our data exchange was built to empower human connectivity and Infutor's Total Mobile Ad ID Solution is a strong addition to help us serve this fast-growing market need."
Based on Infutor's TrueSourceTM Digital Device Graph, Infutor's Total Mobile Ad ID Solution links more than one billion privacy-compliant and permissibly obtained hashed email identities with 350 million digital devices and two billion MAID/hashed email pairs. These anonymous identifiers protect personally identifiable information (PII) while helping marketers to resolve and connect digital consumer identities across platforms and within their first party identity graph. Infutor's Total Mobile Ad ID Solution also includes a Confidence Score that indicates the recency and frequency of MAID/hashed pairing.
"We are excited to introduce the Total Mobile Ad ID Solution as this robust dataset will help marketers improve omnichannel marketing and onboarding, extend digital reach and empower brands to resolve digital consumer identities within their first party CRM," said Gary Walter, CEO of Infutor. "We are proud that BDEX has recognized the value of this dataset for today's marketers."
Hosted onsite and available in multiple delivery frequencies, Infutor's Total Mobile Ad ID Solution helps marketers achieve digital identity resolution and cross-device resolution by identifying all of the digital devices in a household. This helps enable consistent omnichannel messaging. Marketers can also extend their reach by using digital identities to target consumers across mobile devices, while maintaining control over first-party PII, and by linking anonymous digital identities to first-party CRM data, improving audience segmentation, personalized messaging and digital and programmatic onboarding rates.
In addition to the Total Mobile Ad ID Solution, Infutor's TrueSource Digital Device Graph powers Digital Onboarding, Digital Crosswalk and Digital Personalization solutions to enable cross-device linking and drive more relevant omnichannel campaigns at scale, reduce duplicate messaging and empower more precise attribution.
About Infutor
Infutor is the expert in data-driven consumer identity management. The company is solely focused on enabling brands to instantly gain access to the most complete and accurate information about consumers, exactly when they need it, to make informed marketing and risk mitigation decisions. Infutor's mission is to deliver solutions that accurately identify consumers before, during and in-between engagements, giving brands a secure, privacy compliant foundation to improve inbound engagement and outbound omnichannel marketing reach, and to minimize losses due to fraud and non-payment. Infutor acquired Ruf Strategic Solutions in 2018 for its extensive suite of customer analytics that aid marketers' data-driven decisions. Led by information industry veterans, Infutor is a privately held company founded in 2003 with strategic investments from Norwest Venture Partners. Infutor is headquartered in Oakbrook Terrace, Ill. For more information, visit http://www.infutor.com.
About BDEX
Established in 2014, BDEX is the first ever Data Exchange Platform (DXP). Combining the functionality, data, and reach of a traditional data management platform in a true marketplace environment with the most powerful identity graph in the US, BDEX empowers B2C companies to use the power of data to understand consumer behaviors and intents helping them reach the right people at the right time. Find out more at https://www.bdex.com.
###