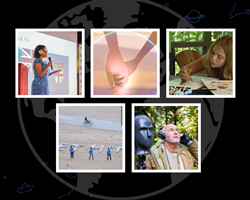 NEW YORK (PRWEB) April 20, 2021
The Earth Day Special a new Planet Classroom Podcast illustrates how young people globally continue to bring energy and passion to the work of protecting and restoring our planet and our communities. Youth activism, imagination and entrepreneurialism continues to remind us we must prevent the coming disasters of climate change and work individually and together to restore our earth.
In Planet Classroom's Earth Day Special Orb the show's virtual host introduces an inspiring group of artists, activists, educators and youth critics who discuss the films Peace Boat, I'm a Child, Olivia's Birds, Sanctuaries of Silence, and Team Marine. Guests share how their personal and local experiences with environmental issues translate to awareness, art, and individual actions to restore our earth. "Every action counts and the sooner we take action, the higher chance humanity can win against climate change." says Youth critic Bao Tran.
Learn about Planet Classroom
Follow @PlanetClassroom on Twitter
Contact Information:
David Wine
David(at)cmrubinworld(dot)com
The Planet Classroom Network, organized by CMRubinWorld, brings together musicians, dancers, video game creators, filmmakers, learning innovators and emerging technologists from all over the world to entertain, educate and engage youth, and to provide a rich cultural experience at a time when art and learning institutions everywhere are not accessible. Curators and content contributors include Global Nomads, Global Oneness, the Martha Graham Dance Company, Commffest, KIDS FIRST!, Dream a Dream Foundation, OddWorld Inhabitants, Psyon Games, Challenge 59, LXL Ideas, Alliance for Young Artists & Writers/Scholastic Art & Writing Awards, Creative Visions Foundation, Battery Dance, SIMA Classroom, Young Voices for the Planet, Bard Conservatory, Taking It Global, Materials for the Arts, Book Creator, XTalks, NFFTY, Young People's Chorus of New York City, The International Forum for the Literature and Culture of Peace, Ryan Wong Classroom, The Global Search for Education, Voice America, Addiction and Art, Rocketium and Brandartica. Young people from around the world played a significant role in conceptualizing, creating, and producing the network's vision and programming.