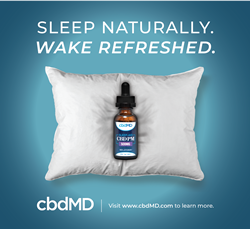 CHARLOTTE, N.C. (PRWEB) March 14, 2019
cbdMD, a Level Brands company (NYSE American: LEVB), officially launched their CBD sleep aid, CBD PM, on Daylight Savings, just in time for World Sleep Day (March 15).
It's estimated that 70 million people in the U.S. suffer from some form of sleeplessness. cbdMD presents a natural, non-habit-forming alternative. Working with the body's endocannabinoid system (ESC) – which helps to regulate vital, internal functions – CBD promotes recovery and overall wellness; that combined with the powerful benefits of melatonin, offer a solution for a restful night's sleep.
"Analyzing the numbers, its staggering how many people struggle with sleep on a regular basis," said Caryn Dunayer, Co-founder & President of cbdMD. "Our CBD PM sleep aid promotes relaxation throughout the night, allowing you to – Sleep Naturally. Wake Refreshed."
CBD and melatonin, both natural ingredients, are used together in most CBD oils specifically meant as sleep aids. CBD regulates and balances the body's ECS, promoting overall health and well-being, while melatonin is added to help ease the time it takes to fall and stay asleep. CBD PM is also infused with Valerian Root, Passionflower Extract, Cascade Hops, Chamomile Flower, Coconut Oil, and Lemon Balm to further stimulate restful sleep. To purchase yours, visit http://www.cbdMD.com/sleepPM.
About cbdMD (http://www.cbdMD.com)
cbdMD, a Level Brands company, offers a comprehensive line of natural, THC-free, hemp-derived CBD oil products made in the US, including tinctures, capsules, gummies, pet products, bath bombs, topicals, and vape oils. As a company committed to the highest standards for CBD sourcing, extraction, and production, cbdMD is for consumers seeking to experience the full benefits of CBD in a safe, convenient, and cost-effective manner. For more information, please visit http://www.cbdMD.com.
About Level Brands (http://www.levelbrands.com)
Level Brands owns and operates the nationally recognized consumer cannabidiol (CBD) brand cbdMD, whose current products include CBD gummies, CBD tinctures, CBD topical, CBD bath bombs, CBD oils, and CBD pet products. The Company also operates a licensing and corporate brand management businesses under the kathy ireland® Health & Wellness; Ireland Men One (I'M1), and Encore Endeavor One (EE1) brands, as well as a personal products division Beauty & Pin-Ups.
Forward-Looking Statements
This press release contains certain forward-looking statements that are based upon current expectations and involve certain risks and uncertainties within the meaning of the U.S. Private Securities Litigation Reform Act of 1995. Such forward-looking statements can be identified by the use of words such as ''should,'' ''may,'' ''intends,'' ''anticipates,'' ''believes,'' ''estimates,'' ''projects,'' ''forecasts,'' ''expects,'' ''plans,'' and ''proposes.'' These forward-looking statements are not guarantees of future performance and are subject to risks, uncertainties, and other factors, some of which are beyond our control and difficult to predict and could cause actual results to differ materially from those expressed or forecasted in the forward-looking statements. You are urged to carefully review and consider any cautionary statements and other disclosures, including the statements made under the heading "Risk Factors" in Level Brands, Inc.'s Annual Report on Form 10-K for the fiscal year ended September 30, 2018 as filed with the Securities and Exchange Commission (the "SEC") on December 12, 2018 and our other filings with the SEC. All forward-looking statements involve significant risks and uncertainties that could cause actual results to differ materially from those in the forward-looking statements, many of which are generally outside the control of Level Brands, Inc. and are difficult to predict. Level Brands, Inc. does not undertake any duty to update any forward-looking statements except as may be required by law.