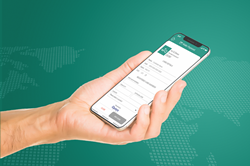 Not only does this partnership with Opayo support wi-Q's efforts to meet the contact-free needs of the current market, but it means our customers can benefit from top-of-the-range payment solutions. This protection is vital given the increasing reliance on the mobile ordering revenue stream
LONDON (PRWEB) January 08, 2021
Having experienced increased demand post-lockdown, leading mobile ordering company wi-Q has made its offering even more desirable to hospitality operators by partnering with the nation's most trusted payments service, Opayo (formerly Sage Pay).
Faced with the task of adhering to government measures upon reopening, restaurants across the country have quickly turned to mobile ordering solutions like wi-Q to help minimise the spread of the Coronavirus (COVID-19). Accessible via customers' own mobile devices, wi-Q enables a 'touchless' experience, reducing contact between staff and customers.
With a focus on boosting hygiene, efficiency and reliability for clients, wi-Q's founder and CEO, Graham Cornhill, is delighted to expand the company's partnership portfolio with Opayo integration. He said:
"wi-Q has been purposefully designed to be responsive to our customers' needs, and integration with leading ePOS and payment providers is a big part of this. It is fantastic to have Opayo on board. Not only does this partnership support our effort to meet the contact-free needs of the current market, but it means our customers can benefit from top-of-the-range payment solutions. This protection is vital given the increasing reliance on the mobile ordering revenue stream."
Opayo, owned by Elavon, performs as the most reliable payment provider in the UK with 99.99% gateway reliability and its range of fraud prevention tools. It enables customers to receive payments fast and securely online, establishing an 'Excellent' rated reputation on Trustpilot.
Sean Wilson, Managing Director of Opayo UK, said: "We are delighted to be partnering with wi-Q, welcoming them to the Opayo family, products and services. This is a great opportunity for us to deliver hospitality focused payments solutions with their unique cloud-based platform. Placing customers at the very heart of their product experience is a great match to our very own award-winning customer service."
wi-Q's award-winning platform is built and hosted in the cloud, so there is no app for hospitality operators to develop and maintain nor for their customers to spend time downloading. Instead, it is accessed either via a customised URL, by scanning a QR code or a SSID redirect when guests log in to a venue's Wi-Fi, allowing customers to instantly browse menus, order and pay through a brand-customisable interface.
Customer orders can be controlled by wi-Q's easy to use management dashboard, where menus can be edited in real time and intelligent customer data analysis can be used to inform upselling opportunities and personalise customer experience.
More information on wi-Q's partnership with Opayo can be found at https://wi-q.com/wi-q-partners-with-opayo/.
Notes:

Founded by a UK-based team in 2014, wi-Q is a pioneer of cloud-based mobile ordering for the hospitality sector, priming its position today as the world's most capable digital ordering platform on the market.
wi-Q is a former winner of the Technology Innovation Award at Hotelympia and The Best Use of Technology at the Middle East Hospitality Awards, and finalist for The Caterer's Product Excellence Awards and Digital Vision Awards.
Opayo is the new name for Sage Pay, recently acquired by Elavon. It is Trustpilot's highest-rated payment provider.