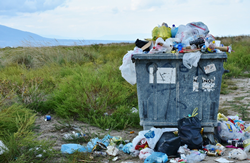 Industry experts will discuss in more detail about advanced recycling technologies on the new episode of "In Depth."
MIAMI (PRWEB) May 29, 2020
Heralded award-winning actor, Laurence Fishburne, is lending his skills as host to the educational show "In Depth". The television program covers many topics that distinctly impact viewing audiences around the world. An impending episode will dive into technology developments that are aiding the recycling industry in waste prevention.
About 65.4 percent of trash ends up in landfills. The average American tosses an average of five pounds of trash daily that ends up in landfills. Too much waste is taking over the globe. Tech developers are finding ways to advance recycling technology to reduce the amount of garbage piling up in landfills.
A new strategy is to use Artificial Intelligence (AI) to aid recycling facilities. Sorting robots implemented with AI technology are faster and smarter than their human counterparts; it can pick up pieces more quickly and is better at recognizing dirty (non-recyclable) materials.
Turning returned goods into recycled materials is another option for reducing landfill levels. Not only does giving materials new life by remaking them into new products avoid waste creation, but it also helps to reduce costs for both businesses and consumers.
The planet is becoming overfilled with garbage, and thanks to technology, the effects of waste can be reduced. Industry experts will discuss in more detail about advanced recycling technologies on the new episode of "In Depth."
"In Depth" is cautiously inspected before revealed to a wider viewing audience. The educational show has accepted a multitude of awards for its efforts.