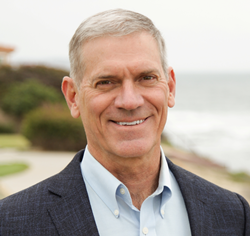 "The Left needs to wake up to the far Right's gamesmanship and develop an effective counter strategy to Islamophobia.-- Steve Slocum
SAN DIEGO (PRWEB) February 20, 2019
"We've found prayer rugs out here. It's unreal." - Border rancher, @realDonaldTrump tweet.
In his January 18 tweet, Donald Trump played the Muslim terror card only days before threatening to declare a national emergency over border wall funding. Since then, his approval rating has gone up by eight points, according to Gallup. Trump is doing little to hide his intent of employing Islamophobia as a political weapon in the run-up to 2020. And he'll use the victories of Rashida Tlaib (D-MI) and Ilhan Omar (D-MN) in their 2018 House campaigns to fan the flames.
Trump has now made good on his threat. Democratic leaders agree that his National Emergency is just a tactic to play on his base's fears. "This is not an emergency, and the President's fearmongering doesn't make it one," Senate Minority Leader Chuck Schumer of New York and House Speaker Nancy Pelosi of California said in a statement Thursday.
Without skipping a beat, Trump is using the standoff with congressional Democrats to raise funds for his 2020 campaign. The Washington Post reports that Trump and his political team plan to make the wall into "one of the driving themes of his reelection effort.
It's obvious that Trump will keep going to the well of America's fear. Why wouldn't he? In late 2015, candidate Trump was quick to capitalize after the San Bernardino mass shooting perpetrated by Syed Rizwan Farook and Tashfeen Malik in which 14 people were killed. Trump struck a chord when he called for a "total and complete ban" on Muslims entering the United States. Three months later Anderson Cooper asked Trump in a live CNN interview, "Do you think Islam is at war with the West?" Trump replied: "I think Islam hates us." And he rode the wave of Islamophobia right into the White House.
Though Donald Trump has uncanny skills in employing Islamophobia to trigger the fear vote, he is far from being the mastermind behind this strategy. From 2008-2013, seven years after 9/11, $206 million was invested by wealthy donors into several information centers including, Center for Security Policy, Jihad Watch, Middle East Forum, and ACT! for America (1). Typical topics of these well-funded campaigns include: the existence of no-go zones in places such as Dearborn, Michigan, where local police fear to go and Sharia Law is enforced, the practice of jihad, or holy war, against all non-Muslim infidels as a fundamental teaching of the Quran, and the existence of terrorist sleeper cells all over the United States. Right-wing politicians up and down the ticket take full advantage of this anti-Muslim propaganda machine.
The left needs to wake up to the far right's gamesmanship and develop an effective counter strategy. In the Democratic Party's response to Trump's SOTU address, Stacey Abrams revealed no such strategy. Statements like, "America is made stronger by the presence of immigrants, not walls," and an emphasis on voter rights and gun control measures are an easy set up for another "prayer rugs" tweet. Though politicians from both sides of the aisle may run campaigns that focus on real issues such as affordable healthcare and climate change, the far right whispers Sharia Law and it's no longer about the issues. Without an effective approach to dismantle the fear trigger of Islamic terror, America is at risk of another scary outcome in 2020.
Specifically, if Democrats hope to take back the presidency and/or a Senate majority, they must at least match the right in funding for educational campaigns with a view to dismantling Islamophobia. I recommend the following three-tiered program:
1. Address America's collective 9/11 trauma. Unresolved trauma produces deep, unconscious responses of self-protection – as evidenced by America's War on Terror. Democrats should frame an anti-Islamophobia campaign in the language of healing from trauma rather than partisan criticism.
2. Awareness and education. The Democratic Party should employ NGOs that specialize in Muslim/non-Muslim friendship to execute a massive educational campaign regarding the history of Islam and basic practices of everyday Muslims. Educators should make careful distinction between extremists, with their political motivations for violence, and mainstream Muslims.
3. Meet your Muslim neighbor campaigns. The most profound influence in eliminating fear of another is to meet the other. The Democratic Party should utilize the same NGOs to coordinate friendship events that give non-Muslims the opportunity to meet their Muslim community members.
A well-executed counter to the $200 million Islamophobia campaign will result in the mention of prayer rugs at the border producing no more response than the discovery of a crucifix or a menorah. And moderate candidates from both sides of the aisle will most definitely succeed in getting themselves elected on the real issues.
Steve Slocum
Steve Slocum is the author of "Why Do They Hate Us? Making Peace with the Muslim World" (To be released June, 2019, http://www.whydotheyhateus.org). He served five years as a missionary in Kazakhstan and is the founder and executive director of Salaam (http://www.SalaamUSA.org), a nonprofit whose mission is creating friendship and mutual understanding between Muslims and non-Muslims. Slocum is a frequent speaker at churches, conferences, and civic groups.
1. Zook, Lisa. "Dismantling anti-Muslim Bias." Presented at the Parliament of the World's Religions, Toronto, Ontario, November 6, 2018. Interreligious Institute, Chicago Theological Seminary.