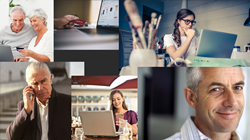 Consumers, CMS, and investors are all asking for more and better opportunities for patients to engage with their healthcare providers in ways that are safer, more accessible and affordable and more convenient - Kevin Fleming, CEO, Loyale Healthcare
LAFAYETTE, Calif. (PRWEB) August 12, 2020
When 2020 began, none of us could have predicted what the year would hold. Apart from a handful of experts around the world whose livelihoods revolve around the dynamics of epidemics and pandemics, our expectations for the first year of the new decade were, more or less, business as usual. Instead, the ins and outs of everyday life in America have been upended. Millions have lost jobs; companies are struggling, and the American economy just experienced its biggest monthly drop in GDP in history.
As difficult as the last several months have been, the challenges presented by the COVID-19 crisis have been met with innovation and collaboration that can't help but inspire and encourage anyone who has been paying attention. Nowhere is this truer than in healthcare, where physicians, caregivers, scientists, administrators and, yes, regulators have stepped up in extraordinary ways to serve patients and solidify a new vision for healthcare in the future.
Three recent events underscore the significance of this "new vision" for healthcare. The first is the announcement of the proposed payment rules for 2021 by the Centers for Medicare and Medicaid Services (CMS). The second is the news that Teledoc Health, a "world leader in virtual care," has acquired Livongo, a company whose "team of data scientists aggregate and interpret substantial amounts of health data and information to create actionable, personalized and timely health signals" to "empower people with chronic conditions to live better and healthier lives." These two events signify what will certainly become one of the most durable legacies of the COVID-19 experience. Namely, the growth and expansion of digital, virtual care. The third story is CVS Health's just-reported profit of $3.2 billion in the second quarter.
Sign Number One - Medicare and Medicaid Are Promoting Virtual
CMS's "Proposed Policy, Payment, and Quality Provisions Changes to the Medicare Physician Fee Schedule for Calendar Year 2021" or PFS sets the tone for 2021 and beyond by proposing reimbursement policies to healthcare providers "to create a healthcare system that results in better accessibility, quality, affordability, empowerment, and innovation." Significantly, the proposal expands and extends "telehealth and other services involving communications technology." Further, it proposes the creation of a "third temporary category of criteria" for adding services to the list of Medicare telehealth services. These are telehealth services added to the PFS during the COVID-19 public health emergency and would be in effect through the calendar year in which the emergency ends.
According to a Fierce Healthcare report, CMS announced its intentions for the 2021 PFS back in June, noting that because of its temporary rule changes in response to the public health emergency "most of the barriers to telehealth reimbursement fell away, enabling many of the changes that provider groups have wanted for years: payment parity for virtual visits, the ability to provide telehealth to patients at home and allowing more provider to offer telehealth visits." Consequently, according to Will Brady, an official with the U.S. Dept. of Health and Human Services (the agency over CMS), "Telehealth is now the preferred method. People want this as the first site of care."
Permanent extension of the CMS telehealth rules for the most part, would require congressional action. And many industry experts agree that payment parity for telehealth services will be a prerequisite for the sustained development and growth of telehealth and other virtual care delivery methods. But patients themselves have spoken through their actions, with millions seeking virtual care. It's likely that growing consumer demand will help ensure that lawmakers take appropriate action to support a virtual healthcare operating model that has distinguished itself in the COVID-19 trial of fire.
Sign Number Two - Consumers and Capital Markets Are Choosing Digital Health
As you might expect, investment and development activity in telehealth and virtual care delivery, has led to solutions that patients and investors love. And it's looking like the relationship will be a long one.
In Teladoc's press release announcing their acquisition of Livongo, the company claims that the combined companies represent, "The only consumer centered virtual care platform for full spectrum of health needs to address accelerating consumer and client demand." It goes on to note that its "combination of highly complementary leaders in virtual care and chronic condition management (are) uniquely positioned to unlock the full potential of virtual care." For 2020, the companies are expected to generate "pro forma revenue of approximately $1.3 billion, representing year over year pro forma growth of 85 percent."
In a crunchbase news story published in June of this year, reporter Christine Hall shared webinar highlights from law and consulting firm Manatt. In it, she reported that telehealth has exploded, "The number of Medicare beneficiaries receiving telehealth services beginning in March increased by over 100 times." The presenter went on to say that "we expect many of the regulatory flexibilities introduced during COVID-19 to remain," and "that now that physicians are used to delivering virtual care, and patients are used to receiving in this way, the industry will reset to a new normal over the next one to three years as the pandemic fades."
The webinar presenters predicted that financially stressed healthcare providers who are making plans to advance their virtual care capabilities during the crisis will be investing in "companies in the areas of supply chain solutions; virtual clinical trials; digital therapeutics/diagnostics; and predictive analytics - especially those that drive new patients and revenue opportunities; and digital training solutions."
Virtual solutions with the ability to drive new patients and revenue opportunities is a topic we explored in an article titled, "Healthcare Revenue Growth: The Proven Power of a Platform". In it, we noted that, "Driven by changes in consumer expectations, pressure from employers and insurers and emerging competitive threats, the healthcare industry is faced with a stark choice - transform or risk failure. For many, a platform operating strategy represents the best hope for prosperity in the new healthcare economy." This is truer today than when the article first appeared.
Specifically, the article focused on "what we believe is one of the most impactful elements in the healthcare producer/consumer relationship - the financial." In this critical dimension of the patient/consumer care experience, the article noted that, "one of the most stubborn obstacles to a fully functioning consumer - patient relationship is the healthcare industry's inability to deliver financial experiences similar to those that consumers have in every other sector of the economy." Today, even in the midst of the crisis, platformed-enabled virtual patient financial engagement solutions such as Loyale Patient Financial Manager™ offer the industry's most accessible digital health enhancement, promising positive financial returns and improved consumer engagement in just the first year.
Sign Number Three - Competition Will Ensure the Prominence of Digital, Virtual Care
Recent newsworthy events affirm the conviction that regulators, investors and consumers all believe in the future of virtual, digital health as a critical component of the American healthcare system as it emerges from the COVID-19 crisis. As one might expect, skyrocketing consumer demand, innovation-fueling investment and unheard-of regulatory flexibility have created a perfect opportunity for consumer-centric competitors from nontraditional healthcare providers.
Companies like CVS Health, Walmart Health and Walgreens Health, along with Haven Healthcare and early-stage experiments from Amazon and Apple, have presented health systems, hospitals and other acute and ambulatory care providers with a potential threat to market share for the last few years. COVID-19 has helped to turn that threat into a very serious reality.
In CVS Health's second-quarter 2020 earnings conference call, as transcribed, Larry Merlo, the company's President and CEO reported that, "The environment surrounding COVID-19 is accelerating our transformation, and it's providing new opportunities to demonstrate the power of our integrated offerings and the ability to deliver care to the consumer in the community, in the home and in the palm of their hand."
With respect to virtual health, Mr. Merlo stated that, "Our virtual care offerings target a variety of healthcare needs including diagnosis in the treatment of common injuries, behavioral health and the management of chronic conditions… We saw continued demand for virtual care and increased digital engagement, and we continue to expand our virtual care offerings. This includes providing access to care for our Aetna-insured members through MinuteClinic video visits and our newly launched virtual care program called E-Clinic."
Across the CVS Health enterprise during the second quarter, profits soared as their customer base swelled (40% of their COVID test and virtual platform users were not previous CVS customers. Where do you supposed they used to get their care? Where do you suppose they'll go in the future?). It's worth noting that CVS Health is just one of the competitive upstarts for which virtual care is a fundamental component of a long-term business strategy.
Consumers, CMS, and investors are all asking for more and better opportunities for patients to engage with their healthcare providers in ways that are safer, more accessible and affordable and more convenient. Providers who act now to answer that call will leverage their expertise to counter their new competitors. In a few years, we predict that those providers will look back on 2020 as the very difficult year when everything changed for the better. We're happy to be able to help.
Kevin Fleming is the CEO of Loyale Healthcare
About Loyale
Loyale Patient Financial Manager™ is a comprehensive patient financial engagement technology platform leveraging a suite of configurable solution components including predictive analytics, intelligent workflows, multiple patient financing vehicles, communications, payments, digital front doors and other key capabilities.
Loyale Healthcare is committed to a mission of turning patient responsibility into lasting loyalty for its healthcare provider customers. Based in Lafayette, California, Loyale and its leadership team bring 27 years of expertise delivering leading financial engagement solutions for complex business environments. Loyale currently serves approximately 12,000 healthcare providers across 48 states. Loyale is proud to have an enterprise-level strategic partnership with Parallon which includes the deployment of Loyale's industry leading technology at all HCA hospitals and Physician Groups.