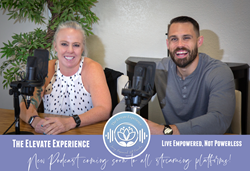 "It is important to us that people know they are not alone. They may be struggling with substance abuse but they can overcome it and we are here to help." - Angie
SANTA CRUZ, Calif. (PRWEB) September 10, 2020
Elevate Addiction Services (EAS) announces its new podcast, "The Elevate Experience," featuring genuine and real conversations concerning addiction treatment, recovery, and what it's like to work in a rehab facility that is completely different from a traditional program. The first five episodes will launch on September 17, 2020.
Learn more here: https://elevaterehab.org/podcast/
Elevate's CEO Angie Manson, and former substance abuser turned addiction counselor, Dallas Terrell, discuss addiction treatment from a new perspective. They navigate the nitty-gritty of recovery and they share why it is essential to stay positive.
Those in recovery, or curious about it, will find fresh takes on old addiction treatment philosophies and learn new ideas about how to feel empowered and why that's so important to success in life.
The Elevate Experience will talk about anything and everything related to substance abuse, including overall wellbeing, personal growth, significant change, and the tools you can use to achieve all three. It will also give you the perspective of people who are on the ground treating individuals.
The project's primary focus centers around how Elevate's methods are different from other programs, but how many fundamental things apply to addiction no matter what. The podcast will focus on overcoming struggles and adversity and how that relates to addiction and recovery.
"We want to be perfectly transparent about what services we offer here." - Dallas
"It is important to us that people know they are not alone. They may be struggling with substance abuse but they can overcome it and we are here to help." - Angie
While Angie and Dallas' experience speaks mostly to addiction treatment, they explore any topic that can be applied to addiction treatment. They also try to keep things real and light when possible, even when diving into serious topics.
Episode Topics Include:

Personal talks with Elevate staff discussing their methods for working with clients in recovery.
Client to counselor dynamics
Ups and downs of recovery.
The family and their essential role in the mental health of the client.
The different philosophies Elevate uses to approach addiction treatment.
Mindfulness and other mental health recovery tools
The therapeutic value of accountability and understanding consequences
At Elevate Addiction Services, our energy is dedicated to transforming the despair of addiction into a purposeful life of confidence, self-respect, and happiness, positively affecting families, communities, and society. We want to give recovering addicts the tools to return to the outside world substance-free and successful.
OUR CONTACT INFO
Brooke Powell
bpowell@elevaterehab.org