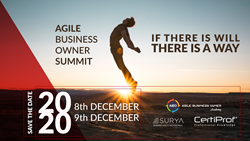 If there is will, there is a way.
SUNRISE, Fla. (PRWEB) December 17, 2020
The 1st Agile Business Owner Summit took place on December 8 and 9, 2020. The event started from the belief that if the future of agility, described by the 3rd decade, is Business Agility, it is imperative to conclude that, it will only happen if we have more business leaders, with the necessary skills to face and lead companies facing the new digital economy. The event was held in Portuguese on December 8 and Spanish on December 9 and addressed the following topics: The Challenges of the New Digital Economy, The Evolution of Management for Business Agility, The Role of Agile Business Owner in Organizations, The Role of the CIO as Business Leader, The Role of the CEO as Change Agent, The Role of Transforming Leadership.
AGILE BUSINESS OWNER
Agile Business Owner's role as an agent of change and the most critical element in the development of Business Agility in organizations is also referenced as the one responsible for developing the new capabilities that will leverage the results of organizations. These and other definitions are present in a reference guide, totally free and available at http://www.agilebusinessowner.org. This guide can serve as a basis for preparing for Agile Business Owner Foundations Certificate (ABOFC), the international certification offered exclusively by CertiProf at https://certiprof.com/pages/agile-business-owner-foundations-certificate-abofc.
BUSINESS AGILITY: The 3rd Decade of Agility has already begun.
The term agility became widely known, especially among information technology professionals, after the launch of Agile Manifesto in 2001. Much has evolved in software development based on the principles and values of agility. We live in the 3rd decade, an invitation to scale agility out of the company, something very close to the thinking present in Exponential Organizations, something a little different from the past decades. The first decade focused on methods, teams and so it became known as the Age of Operational Agility. The second one, directed looks and efforts to scale the agility inside the company, and is called the Age of Organizational Agility.
Known as the Age of Business Agility, the third decade of agility called the attention of other areas of the company with the promise of making the entire organization able to adapt quickly to market changes and meet, in a flexible manner, customer demands. An extremely seductive promise for a complex, uncertain and volatile business context.