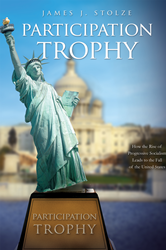 The deficit will explode and the stock market will crash over time.
BELLEVUE, Neb. (PRWEB) June 14, 2020
Financial expert and author James J. Stolze details the dangers of socialist influence on America's finances in Participation Trophy: How the Rise of Progressive Socialism Leads to the Fall of the United States ($17.99, paperback, 9781631293351; $33.99, dust jacket, 9781631293368; $8.99, e-book, 9781631293375).
Stolze offers readers a fictional look at America's future, influenced by his vast experience in finance and economics. He uses current events to predict what could happen in the United States if certain changes are made.
"Medicare for All, Jobs Program, New Green Deal, Infrastructure and the Housing Program could cost $40-50 trillion over a decade. The massive tax increases proposed will not come close to paying for the programs. The deficit will explode and the stock market will crash over time," said Stolze.
James J. Stolze is a 30+ year finance professional, currently serving as the CFO of a very large religious organization, along with formerly managing an $8 billion investment portfolio for an insurance company. He holds a Bachelor's degree in Business majoring in Economics, a Master's in Business Administration, an M.S. in Economics along with designations including Chartered Financial Analyst, Certified Mortgage Banker, and Certified Real Estate Investor
###
Liberty Hill Publishing, a division of Salem Media Group, is a leader in the print-on-demand, self-publishing industry. Participation Trophy is available online through amazon.com and barnesandnoble.com.