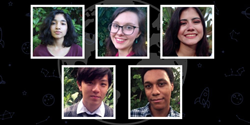 NEW YORK (PRWEB) March 11, 2021
Youth poets Isabella Ramirez, Ethan Wang, Manasi Garg, Madelyn Dietz and Anthony Wiles came together in the new Planet Classroom podcast to talk about their art and reflect on its power to heal in a world facing unprecedented challenges. Readings by the poets are available on the Planet Classroom Network YouTube Channel. The poets will serve for 1 year as National Student Poets, the highest honor for youth poets presenting original work in the United States.
In the new Planet Classroom podcast, the artists talk about isolation, COVID19 and the power of art to transform. "Humans are naturally inclined towards the arts and we are naturally inclined to always want to express ourselves and have the freedom to express ourselves," says Manasi Garg. Anthony Wiles, whose poem explores how other nations respond to race and inclusivity, describes his poem as "a plea for help and a plea for freedom," and a "cry to be seen and to be treated as a human being, and to have your life respected." Maddy Deitz discusses personal loss during the pandemic and says writing poetry allowed her to grieve. "I needed to learn that it is okay to just feel. I'm still learning that, but it's a process, a long one but a good one," she notes.
Visit the Planet Classroom Network YouTube channel
Contact Information:
David Wine
David(at)cmrubinworld(dot)com
About The Planet Classroom Network
The Planet Classroom Network, organized by CMRubinWorld, brings together musicians, dancers, video game creators, filmmakers, learning innovators and emerging technologists from all over the world to entertain, educate and engage youth, and to provide a rich cultural experience at a time when art and learning institutions everywhere are not accessible. Curators and content contributors include Global Nomads, Global Oneness, the Martha Graham Dance Company, Commffest, KIDS FIRST!, Dream a Dream Foundation, OddWorld Inhabitants, Psyon Games, Challenge 59, LXL Ideas, Alliance for Young Artists & Writers/Scholastic Art & Writing Awards, Creative Visions Foundation, Battery Dance, SIMA Classroom, Young Voices for the Planet, Bard Conservatory, Taking It Global, Materials for the Arts, Book Creator, XTalks, NFFTY, Young People's Chorus of New York City, The International Forum for the Literature and Culture of Peace, Art and Addiction, Ryan Wong Classroom, The Global Search for Education, Voice America, Rocketium and Brandartica. Young people from around the world played a significant role in conceptualizing, creating, and producing the network's vision and programming.
Audiences can watch readings by the Poets on the Planet Classroom Network YouTube Channel. Isabella Ramirez (Southeast), a junior at Alexander W. Dreyfoos School of the Arts in Lake Worth, FL, Ethan Wang (Southwest), a junior at Cinco Ranch High School in Katy, TX, Manasi Garg (West), a junior at Saratoga High School in Saratoga, CA, Madelyn Dietz (Midwest), a homeschooled junior from St. Paul, MN, and Anthony Wiles (Northeast), a junior at Sewickley Academy in Ross, PA are the 2020 Class of National Student Poets. The National Student Poets Program—a collaboration of the Institute of Museum and Library Services and the Alliance for Young Artists & Writers—strives to inspire young people to achieve excellence in their own creative endeavors and promote the essential role of writing and the arts in academic and personal success.