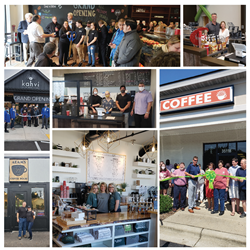 "With 30-plus years of specialty coffee experience and award-winning coffee to open your coffee shop, we support independent coffee shop owners every step of the way." - Greg Ubert
COLUMBUS, Ohio (PRWEB) May 14, 2021
To celebrate its 30th anniversary, award-winning coffee roaster Crimson Cup Coffee & Tea has shared a new video: "The 7 Steps to Coffee Shop Success."
"With 30-plus years of specialty coffee experience and award-winning coffee to open your coffee shop, we support independent coffee shop owners every step of the way," said Crimson Cup Founder and President Greg Ubert.
"This video offers a quick and easy introduction to the tools and benefits of our 7 Steps to Success coffee shop franchise alternative."
The 7 Steps program got its start in the 1990s. As a coffee roaster, Ubert noticed some of his coffee shop customers struggling to make a profit. He worked with them to create a business model that would deliver consistent results.
In 2002, Ubert packed lessons learned into a book, "Seven Steps to Success: a Commonsense Guide to Succeed in Specialty Coffee."
Now in its second printing, Ubert's book has guided over 200 small business owners in 30 states to create unique independent coffee shops serving their local communities.
For two decades, the 7 Steps have helped independent coffee shops thrive. In fact, 19 new business owners followed the 7 Steps to open their first coffee shops in 2020 amid a global pandemic. At least another 20 plan to open in 2021.
Following this proven program, 7 Steps consultants and trainers help new coffee shop owners succeed using tools including:

Coffee shop business plans and projected cash flow analysis
Coffee bar design and layout, including detailed electronic drawings
Four to five days of onsite training for the owner and staff
Grand opening marketing and onsite assistance
Support in choosing the right equipment
Quick and easy ordering of coffee and coffee-shop supplies
Marketing and business support from the Crimson Cup team
"We provide you with the tools to help you succeed because we want you to not just be a customer, but a partner," Ubert said. "When our customers succeed, we succeed."
The video also outlines some of the unique benefits of the 7 Steps program, including:

No franchise fees, royalties or hidden costs
Business insights from coffee industry experts
Featured promotions and marketing support to increase sales
Menu and recipes for the best-tasting coffee drinks in the industry
A full line of coffee shop products
The best equipment in the industry
And connections with over 200 independent coffee shop owners across the country.
Ubert noted that part of the program's success is its emphasis on creating unique coffee shops that cater to the needs of local communities.
"Our motto is Coffee+Community," he said. "Coffee is a terrific way to bring local communities together.
"The best coffee shops become community gathering places where people meet to chat, study and do business."
About Crimson Cup Coffee & Tea
Columbus, Ohio coffee roaster Crimson Cup Coffee & Tea is celebrating 30 years of Coffee + Community. Since May 1991, Crimson Cup has roasted sustainably sourced craft coffee for consumers and wholesale coffee customers. It is a 2020 Good Food Award winner, 2019 Golden Bear Champion for Small Franchise/Chain Roaster and Roast magazine's 2016 Macro Roaster of the Year.
Through its 7 Steps to Success coffee franchise alternative program, the company teaches entrepreneurs to run independent coffee houses in their local communities. By developing a coffee shop business plan, entrepreneurs gain insight into how much it costs to open a coffee shop.
Crimson Cup also supports life-enriching projects through its Friend2Farmer™ initiatives, promoting the education, health, sustainability and economic growth of small-plot coffee farmers and their communities.
Crimson Cup coffee is available through over 350 independent coffee houses, grocers, college and universities, restaurants and food service operations across 30 states, Guam and Bangladesh. The company also operates several Crimson Cup Coffee Houses and a new Crimson retail flagship store. To learn more, visit crimsoncup.com, or follow the company on Facebook and Instagram.