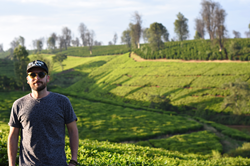 "We share these stories with all of our customers so they understand this isn't a normal cup of tea you would get from a grocery store. With Crimson, you'll understand the entire supply chain behind it, from the tea leaf to the way it was processed." - Brandon Bir
Columbus, Ohio (PRWEB) November 13, 2021
In "The Crimson Tea Story," award-winning coffee roaster Crimson Cup Coffee & Tea describes the intentional process it follows to source exceptional teas.
The company's buying team travels the globe to discover teas with extraordinary flavor and sustainable growing practices.
"From China to Japan, Thailand to Peru, we partner with like-minded producers to bring the best tea harvests to your cup," said Sustainability Director Brandon Bir.
"We taste the tea, but we also get to know the farmer behind the tea. For example, if a tea tastes delicious and has a small, woman run-farm behind it, we're more likely to buy it."
Crimson Cup partners with small growers based in remote regions. Some tea gardens have passed through generations of family ownership.
Examples include sweet and rosy Clear Heart Oolong, produced by Mr. Hu, who employs and empowers the local Haaka minority in Thailand, and aromatic Yunnan Da Ye White, produced by Ms. Vicky on the border of Myanmar.
"Intentionality infuses everything these producers do," Bir said. "Their efforts produce a nuanced cup with distinctive flavors and complexities."
Each tea has its own story, representing centuries of knowledge, expertise and loving care.
"We share these stories with all of our customers so they understand this isn't a normal cup of tea you would get from a grocery store," Bir said.
The company showcases premium teas at Crimson, its retail flagship store in Easton Town Center.
"When you pick up a box of tea or you drink a cup at Crimson, you'll understand the entire supply chain behind it, from the tea leaf to the way it was processed," Bir said.
Tea enthusiasts also can discover Crimson teas at hundreds of independent coffee shops, cafes and bakeries supported by Crimson Cup's 7 Steps to Success coffee shop startup program.
About Crimson Cup Coffee & Tea
Columbus, Ohio coffee roaster Crimson Cup Coffee & Tea is celebrating 30 years of Coffee + Community. Since May 1991, Crimson Cup has roasted sustainably sourced craft coffee for consumers and wholesale coffee customers. It is a 2020 Good Food Award winner, 2019 Golden Bean Champion for Small Franchise/Chain Roaster and Roast magazine's 2016 Macro Roaster of the Year.
Through its 7 Steps to Success coffee shop startup program, the company teaches entrepreneurs to run independent coffee houses in their local communities. By developing a coffee shop business plan, entrepreneurs gain insight into how much it costs to open a coffee shop.
Crimson Cup also supports life-enriching projects through its Friend2Farmer® initiatives, promoting the education, health, sustainability and economic growth of small-plot coffee farmers and their communities.
Crimson Cup coffee is available through over 350 independent coffee houses, grocers, college and universities, restaurants and food service operations across 30 states, Guam and Bangladesh. The company also operates several Crimson Cup Coffee Houses and a new Crimson retail flagship store. To learn more, visit crimsoncup.com, or follow the company on Facebook and Instagram.