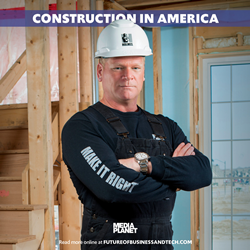 "...79% of general contractors with 3+ projects in TouchPlan had an increase in annual revenue."
NEW YORK (PRWEB) June 21, 2019
With over 10 million people working in the construction industry, a lack of skilled labor and a growing population it is important to incorporate cutting edge technology in every project, the 'Construction in America' campaign, launched today, will shed light on best practices for constructing the buildings and infrastructure necessary to meet the growing demand. As Touchplan, a key partner in the overall campaign, notes, "we need to work smarter and more efficiently."
The cover story of the campaign, Mike Holmes, star of TV's "Holmes on Holmes" discusses the importance of collaboration and communication at every job site. Advocating for organization and the use of a project management program that can help streamline your company and projects and allow to focus on the details, which are key to the success of a project.
TouchPlan is the only web-based, accessible-anywhere construction collaboration tool to grow your business. "The technology mimics simple processes the team is already using," Says Jennifer Nussinow, TouchPlan's director of marketing. This allows contractors the ability "to get trades and project trades up and running in 15 minutes." TouchPlan allows contractors to simply improve the bottom line of their business and they have seen that 79% of general contractors with 3+ projects in TouchPlan had an increase in annual revenue.
The print component of "Construction in America" is distributed within today's edition of USA Today in New York, Washington DC, Charleston, Baltimore, Chicago, Los Angeles, Miami, Houston/Dallas, Atlanta Markets, with a circulation of approximately 250,000 copies and an estimated readership of 750,000. The digital component is distributed nationally, through a vast social media strategy, and across a network of top news sites and partner outlets.
This campaign was made possible with the support of Mike Holmes, Bryan Beaumler, Jeff Devlin, Mike Rowe, Scott McGillivray, Karen Laine, Mina Starsiak, The Associated General Contractors of America, Construction Contractors Association, Construction Management Association of America, Komatsu, Caterpillar, Carhartt, IFS World, Sustainable Minds, Hyphen Solutions, Touchplan, National Association of the Remodeling Industry, National Association of Home Builders, Centennial Woods, Carlisle, National Safety Council, US Green Building Council, Association of Equipment Manufacturers.
About Mediaplanet
Mediaplanet specializes in the creation of content marketing campaigns covering a variety of industries. We tell meaningful stories that educate our audience and position our clients as solution providers. Our unique ability to pair the right leaders with the right readers, through the right platforms, has made Mediaplanet a global content marketing powerhouse. Our award-winning stories have won the hearts of countless readers while serving as a valuable platform for brands and their missions. Just call us storytellers with a purpose. Please visit http://www.mediaplanet.com for more on who we are and what we do.
About TouchPlan
Touchplan is the award-winning construction collaboration tool that project teams actually like. Serving field teams, planners and stakeholders through an accessible-anywhere, web-based system, Touchplan is proven to grow businesses through substantial project-level efficiency gains. Drawing on over 20 years of experience gained through affiliated services firm MOCA Systems, Touchplan is trusted by over 22 billion dollars of construction, 15,000+ users, 1,200+ global projects and 100+ general contractors, it's no wonder why twenty-one percent of the ENR top 100 list use Touchplan to finish ahead.