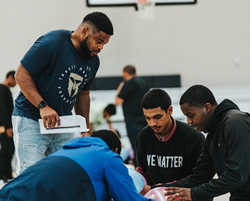 Just because school is canceled, it doesn't mean that character should be canceled. With millions of students learning remotely from their own homes, we saw an opportunity to offer this curriculum -- for free -- to any family that thinks they could benefit from it.
DOYLESTOWN, Pa. (PRWEB) March 20, 2020
In response to the nationwide quarantine and school closings due to COVID-19, one of the nation's leading veteran nonprofit organizations, Travis Manion Foundation (TMF), has decided to adapt their Character Does Matter Program to now be available online for students throughout the country.
Beginning Monday, March 23rd, TMF's team of trained, vetted, and inspirational veteran leaders will implement the Character Does Matter program to youth throughout the country via social media. Each weekday at 1:00pm ET, a TMF Veteran Mentor will host a Facebook Live video around character development, aimed at an elementary and middle school audience. Jimmy White, a U.S. Navy veteran and recipient of TMF's 2018 "If Not Me, Then Who…" award, will kick off the program by teaching lessons about kindness, hope, humor, and appreciation of beauty.
Parents and caretakers are encouraged to log-on along with their children to receive each day's lesson and character activity. During the session, veterans will discuss a particular character strength, share their personal stories, work through a definition and activity that demonstrates that character strength, and challenge the students to continue to develop that strength. The veteran will then be available to respond to youth in real-time via the comments section.
The Character Does Matter program is unique in that it empowers Veterans and Family Members of Fallen Heroes who volunteer with TMF to develop character and leadership skills in young adults by sharing stories of real people who exemplify these traits. These mentors lead students through character-based activities, demonstrating what it means to live the "If Not Me, Then Who…" ethos – and then challenging students to do the same.
With the sudden request from government officials for self-quarantining, remote working situations, and school closures, many have been left seeking some degree of structure and normalcy in unstable times, leaving parents and caretakers with the challenge of homeschooling their children while simultaneously keeping their homes and careers afloat.
During this time of uncertainty, TMF has seen a great opportunity to support overwhelmed parents, deliver character education to youth at home--all while delivering on its mission to engage the veteran community to give back in ways that are safe for and meet the current needs of the country. Veterans find innovative solutions to be resilient during challenging times, and as such, TMF's Veteran Mentors are prepared to deliver the curriculum via e-learning for as long as may be needed given recent public health directives.
Ryan Manion, TMF's president and Gold Star Sister of Marine 1st Lt. Travis Manion, highlights the importance of a program like this during such an uncertain time, noting that "In times like this, we can't afford to sit on the sidelines. Just because school is canceled, it doesn't mean that character should be canceled. With millions of students learning remotely from their own homes, we saw an opportunity to offer this curriculum -- for free -- to any family that thinks they could benefit from it. This is the exact moment where all of us can make a difference by serving our communities, and that's exactly what our curriculum teaches."
The Character Does Matter Program addresses two major issues: First, more than 55% of veterans say they feel disconnected from civilian life. Second, more than one in three young adults (16 million) have never had a positive role model or mentor.*
Through this program, veterans are provided with a redefined role in their community and the platform to engage our youth in the essential discussion of character and servant leadership. This process benefits our veterans, our youth, and our nation, one community at a time.
Travis Manion Foundation's Character Does Matter Program, powered by Under Armour, expands the engagement for veterans and families of the fallen across the country with the next generation of leaders. In turn, more than 317,000 young adults have experienced this message.
About Travis Manion Foundation
Travis Manion Foundation (TMF) unites communities to strengthen America's national character by empowering veterans and families of fallen heroes to develop and lead future generations. In 2007, 1st Lt. Travis Manion (USMC) was killed in Iraq while saving his wounded teammates. Today, Travis' legacy lives on in the words he spoke before leaving for his final deployment, "If Not Me, Then Who..." Guided by this mantra, veterans continue their service, develop strong relationships with their communities, and thrive in their post-military lives by serving as character role models to youth. As a result, communities prosper and the character of our nation's heroes lives on in the next generation.
The story of 1st Lt. Travis Manion and his Naval Academy brother Lt. (SEAL) Brendan Looney have been publicized in the book Brothers Forever, and additional information about the Foundation can be found at http://www.travismanion.org.
For more interview opportunities or additional information, contact Travis Manion Foundation Director of Marketing: Derrick Morgan (215) 622-2225 - Derrick@travismanion.org