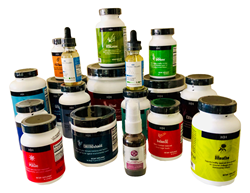 MIDDLETOWN, Md. (PRWEB) April 29, 2020
Dr. Craig Hauser has opened an online store offering professional grade solutions for people trying to stay healthy, boost immunity and supplement their nutrition during the Coronavirus pandemic.
"Patients and friends have called Hauser Health asking for easy ways to bolster immunity and prevent contraction of the COVID-19 virus," says Dr. Hauser, the CEO of Hauser Health "Now more than ever we need to be focusing on building our immunity and improving our health," says Hauser. "By opening the store to everyone and not just my patients, I'm able to provide medical-grade supplements that go beyond the typical one-a-day grocery store vitamins and provide essential support to the body."
A wealth of research exists demonstrating the benefits that nutrition plays on the human body. Specific nutrients such as Vitamin C, Zinc, Vitamin D, and Fish oils are essential for immune protection and antibody formation. When the basic building blocks of life are not at 100%, we leave ourselves more vulnerable to disease.
"The problem is that we are not eating enough of these essential nutrients during our daily lives, let alone with the added impact of seasonal influenza or this new virus. Even the CDC announced in 2017 that only 1 in 10 individuals eats enough daily fruits and vegetables," says Dr. Hauser.
Dr. Hauser is a specialist physician of 25 years in Integrative & Functional Medicine. For more information, please visit http://www.HauserHealth.com.