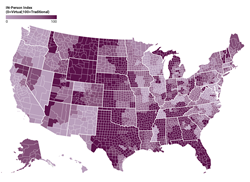 Fourteen states have over 90% of their students attending schools offering either traditional or hybrid learning, concentrated across the South and the Rockies. Conversely, states with over 90% of their students attending virtual-only schools are concentrated in the West and Middle Atlantic
PELHAM, N.Y. (PRWEB) October 21, 2020
More than 60% of US K-12 public school students will be attending schools that offer in-person learning by Election Day, up from only 38% at Labor Day, according to an ongoing audit conducted by Burbio.com, a data service that aggregates school and community calendars nationwide. Specifically, 35.7% of students will be attending schools offering traditional, in-person learning every day while 26.5% will be attending schools that offer a hybrid schedule of 2-3 in-person days per week. Just 37.8% of students will be attending schools that only offer virtual learning, a drop of almost 25% from the 62% "virtual-only" figure at Labor Day. A national overview of the data can be found at Burbio's School Opening Tracker.
"During September we saw many districts in the Sun Belt that postponed in-person starts in August due to rising Covid cases introduce in-person learning," said Burbio co-founder Julie Roche. "That trend of Sun Belt openings has continued into October, but we have also seen districts across the Northeast and Midwest introduce more in-person learning after a virtual-only start."
Fourteen states have over 90% of their students attending schools offering either traditional or hybrid learning, concentrated across the South and the Rockies. Conversely, states with over 90% of their students attending virtual-only schools are concentrated in the West and Middle Atlantic, including California, Washington, Oregon, Hawaii, Maryland, New Mexico, and the District of Columbia.
Traditional, in-person every day learning is the preferred method of learning in the Sun Belt, with Texas and Florida having over 75% of their students attending schools offering every day in-person instruction. In the Northeast, hybrid is the preferred form with New York, Connecticut, New Hampshire, Maine, and West Virginia joining Idaho as the states with over 60% of their students attending schools with hybrid learning formats.
Covid-related closures have yet to move the indexes as they generally consist of individual schools reverting to a virtual model for only a short period. That said, New York recently closed groups of schools for an extended period due to community-wide Covid levels being too high, as did schools in Lowell, MA, and St. Cloud, MN, a trend if widespread through the winter will have an effect on the indices. Further, various districts across the country are struggling to introduce in-person learning for the first time due to community wide Covid thresholds that must be met, putting a brake on school openings.
In general, districts that offer in-person learning also offer a virtual-option and the "opt-out" figures vary widely, the highest being found in urban districts and often varying across grade levels. As the first quarter ends in schools that started in August, some districts in Texas are eliminating the virtual option for all but health-hardship cases, stating concerns about educational progress.
The approach to re-opening in-person learning can include returning younger students to the classroom for the first week or two followed by older students. Some districts employ mixed models in which K-5 students attend school every day while middle and high school students attend 2-3 days a week. There have been very few districts converting from an all hybrid approach to traditional in-person; the few examples involve only K-5 students.
The 200 largest school districts in the US started the year predominantly virtual and have made a shift towards in-person learning since August, as 57% of all students in those districts now attend either traditional or hybrid learning versus 43% virtual. The in-person numbers are driven by county districts in the South as most urban districts outside of NYC are still virtual-only.
"Since late August, we have seen districts follow through on transitions to in-person plans and we expect that to continue," said Roche, noting Burbio's Election Day projections include planned returns in places such as North Carolina and Virginia. "We see very few projected in-person returns between mid-November and January 1st and anticipate that future transitions will be slow due to the more conservative approaches to Covid mitigation in the remaining districts. The transition to a normal school year across the US is quite far away, in particular when you take into account that hybrid-learning is not the optimal educational approach so transitions from hybrid to traditional still need to occur."
Burbio's data set consists of more than 80,000 K-12 school calendars across all 50 states and is dynamically updated as events are added or changed. For this initiative, Burbio audits 1,200 districts, including the 200 largest school districts in the U.S. District plans are reviewed every 72 hours to identify changes and percentages are weighted to reflect the mix of larger and smaller district student populations to calculate local and national percentages.
####
About the Methodology
Margin for error is 2.73% at 95% confidence level. For detailed methodology visit https://about.burbio.com/methodology/ or email dennis@burbio.com
About Burbio:
Burbio.com is the industry leader in aggregating school, government, library and community event information for digital consumer engagement and business decision making. Burbio's technology organizes and streams millions of hyper-local events across the US and keeps them automatically updated. Burbio's relevant and critical content is engaging for consumers and important for business decision making. In addition to the Burbio.com consumer service, Burbio works with digital media companies, local broadcasters, real estate firms, government and library partners, national non-profits, corporate clients and investment professionals who use this community event information to engage consumers and better manage and predict their business.