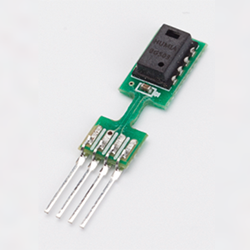 WILMINGTON, Mass. (PRWEB) June 01, 2020
Heilind Electronics, a leading distributor of electronic components worldwide and an authorized distributor for Amphenol Advanced Sensors, is now stocking the manufacturer's ChipCap 2-SIP humidity and temperature sensor.
ChipCap 2-SIP offers all the features and benefits of the ChipCap 2 in a Single In-Line Package (SIP) with ready installed V-Core capacitor for easy and convenient application.
The product offers the most advanced and cost-effective humidity and temperature sensing solution, ideal for virtually any type of application. It uses an I2C interface and features alarm functions for control at minimum or maximum humidity. It is also RoHS-compliant and lead-free. Individually calibrated and tested, ChipCap2 performs at plus/minus two percent from 20 to 80 percent RH (plus/minus three percent over entire humidity range), and is ready to use without further calibration or temperature compensation.
Not only does this solution feature low current consumption, precision and accuracy, but it also allows for better air circulation and response time. ChipCap 2-SIP sensors are the ideal sensing solution for applications requiring high reliability, high accuracy and cost-effectiveness.
They are especially suited for harsh environments and a variety of medical, energy-saving HVAC control, process control and instrumentation, and automotive and transportation applications.
Visit Heilind's website for more information about Amphenol Advanced Sensors' ChipCap 2-SIP humidity and temperature sensors.
About Heilind Electronics
Heilind Electronics, Inc. (http://www.heilind.com) is one of the world's leading distributors of connectors, relays, sensors, switches, thermal management and circuit protection products, terminal blocks, wire and cable, wiring accessories and insulation and identification products. Founded in 1974, Heilind has locations throughout the U.S., Canada, Mexico, Brazil, Germany, Singapore, Hong Kong and China. Follow Heilind on Facebook at facebook.com/Heilind and on Twitter at twitter.com/Heilind.
About Amphenol Advanced Sensors
Amphenol Advanced Sensors is a leading innovator in advanced sensing technologies and cutting-edge embedded measurement solutions. These solutions are customized for regulatory and industry-driven applications and are designed to create value by providing critical information for real-time decisions.