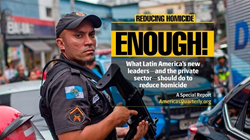 "Violence is the one thing in Latin America that never seems to get any better," writes Americas Quarterly Editor-in-Chief Brian Winter
NEW YORK (PRWEB) July 23, 2018
"Violence is the one thing in Latin America that never seems to get any better," writes Americas Quarterly Editor-in-Chief Brian Winter in the magazine's new issue. Despite the improved political, economic, judicial, and social standards over the past quarter-century, the homicide rate stands at a shocking 21.5 per 100,000 inhabitants. "The human toll is reason enough to make reducing homicides a top priority. There is also a clear economic argument as Latin America may have lost more money in 2017 to violence than it gained from foreign direct investment," says Winter. And then, there is this: "Democracy itself may be at stake as frustration with violent crime and the status quo in general across the region is fueling the rise of populists who openly disdain democratic institutions."
For its third issue of 2018, Americas Quarterly (AQ) examines the strategies being deployed across the region to tackle high murder rates and provides a clear picture of where they have been effective. In a 50-page special report "Enough!" journalists report from the three largest countries holding elections in 2018 to find the people championing original, civic-rooted solutions to a seemingly inexhaustible problem. In Colombia, John Otis covers an innovative program that identifies potential murder victims and protects them before it is too late. Richard Lapper goes to murder-plagued Fortaleza in northeastern Brazil to observe the work of a leftist legislator who advocates preventive and social solutions amid a clamor for hardline enforcement. From the Mexican state of Chihuahua, Benjamin Russell finds a small but impactful program funded by local business leaders. Elsewhere in this issue, outgoing Colombian president Juan Manuel Santos offers a frank look at the failed "War on Drugs". And AQ staff study how different countries have addressed the drug problem, showing mixed results.
LIVE EVENT:
On August 9 in Mexico City, experts Alfonso Durazo, President-elect Andrés Manuel López Obrador's proposed Public Security Secretary; México Unido Contra la Delincuencia Director General Lisa Sánchez; Ceará (Brazil) State Congressman Renato Roseno de Oliveira; Americas Quarterly Editor-in-Chief and AS/COA Vice President of Policy Brian Winter; and BuzzFeed News Mexico bureau chief and Latin America correspondent Karla Zabludovsky will convene to discuss practical and sensible solutions to the murder epidemic. Check the event details here.
To learn more, register for the launch event, or to request interviews with the authors, please contact AS/COA Media Relations: mediarelations@as-coa.org|1-212-277-8384| 1-212-277-8333.
Other articles in this issue include:

AQ's Top 5: Five women and men who use their voice (or pen or camera) to tell stories we might not otherwise hear.
A strong pitch from the IDB's Antoni Estevadeordal and Mauricio Mesquita for a broad Latin America and the Caribbean trade agreement.
An essay on how the reign of Paraguay's original dictator still echoes to this day.
Americas Quarterly's complete third issue of 2018 will be available online July 31 at AmericasQuarterly.org.
Americas Quarterly is an award-winning publication dedicated to politics, business, and culture in the Americas. Borrowing elements from The Economist, Foreign Affairs, and National Geographic—but with a focus on Latin America—AQ is dedicated to covering the region in all its diversity and promise. AQ's elite, agenda-setting readership includes CEOs, senior government officials, and thought leaders, as well as a general-interest audience passionate about the Americas. Launched in 2007 and based in New York City, AQ is an independent publication of Americas Society/Council of the Americas, which for more than 50 years have been dedicated to dialogue in our hemisphere.