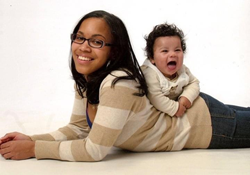 There is no better person to relate the effectiveness of our programs than the past residents themselves.
NEWTON, N.J. (PRWEB) December 01, 2020
This year, due to COVID, Birth Haven has faced additional costs in order to keep their mothers safe. Not to mention the logistical challenge of creating video content for their annual "Journey of Hope" holiday fundraiser without exposing staff and residents to risk.
To overcome this hurdle, Birth Haven posted a social media solicitation inviting former residents to send in their own video messages recalling their experiences at Birth Haven. And those former residents came through.
As Co-chairman of the Board, John Ursin, explained, "We realized that there is no better person to relate the effectiveness of our programs than the past residents themselves. Each of their stories are unique and all of them are inspiring in their own way."
The first of the four resident-generated videos is being released Tuesday, December 1, 2020, which is Giving Tuesday and can be viewed with this link: https://youtu.be/EvPJEkF50Ac -- The remaining three will be release weekly, concluding the week of Christmas.
You can hear about the struggles and rewards these former Birth Haven mothers experienced on their heartwarming journeys from homelessness to self sufficiency by visiting http://www.birthhaven.org.
Executive Director, Tina Magarino said, "The videos provide unique insight into the trials and tribulations these former Birth Haven residents faced as well as the lasting, positive impact our programs have had on their lives since they left. We hope people will be inspired to share the videos with their friends through Facebook, Instagram and other platforms, raising awareness about Birth Haven and the epidemic of homelessness."
Relying on a virtual end-of-year fundraiser has historically allowed Birth Haven to leverage technology to maximize the effectiveness of each dollar donated when compared to a typical in-person holiday event which can cost 30-50% of the funds raised. Ultimately, using technology and social media will allow Birth Haven to use more than 95% of the proceeds of this drive to support the Shelter and its programs.
Tina Magarino explained that "many of the residents need the most basic guidance to help themselves and their babies. This includes obtaining driver's licenses and GEDs, resume preparation, individual and group counseling, parenting classes, cooking classes and instruction on household finances. Our residents are required to either work, attend school or volunteer their time. And we have a mandatory savings program so many residents leave with the funds necessary to secure an apartment or meet other financial needs."
Birth Haven is a shelter for Homeless Pregnant Woman and their Babies located in Newton, New Jersey. It is a privately run, non-profit organization which has provided shelter, support and education to its residents for 35 years.
Birth Haven hopes that current supporters and new friends will view the videos and be inspired to contribute during this season of giving. The need is greater than ever given the increased operating expenses brought on by the pandemic. And the support makes a massive difference in the lives of these courageous young women and their babies right here in our local community.
And please follow Birth Haven on Facebook and Instagram -- @birthhavennj