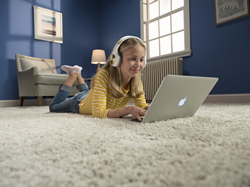 "The biggest advantage of International Connections Academy for me was the flexibility of it all. I had the ability to work on my schoolwork around the time I spent rehearsing for theatre, practicing hockey and working a part-time job."
COLUMBIA, Md. (PRWEB) April 01, 2019
International Connections Academy (iNaCA), the US-based accredited online private school, today opened enrollment to students everywhere in grades K-12 for the 2019-20 academic year. April 1 also marks a new scholarship application window for the upcoming school year. New and returning students are eligible to apply for full-tuition scholarships awarded by the school's Board of Trustees.
"As we prepare for another successful academic year at International Connections Academy, it's a privilege to be able to reward a few of our hardworking students with full-tuition scholarships," said Hannah Rinehart, Director of International Connections Academy. "This is the second year we are able to acknowledge the dedication of students with these awards, and we encourage all families interested in enrolling in the upcoming school year to consider applying for a scholarship."
The first 2019-20 scholarship recipient, Alexander Kuiper of Georgia, received a scholarship during the school's early decision period which opened in November. The incoming 9th grader is new to online school, having attended a dual language Spanish immersion school since Kindergarten, and is looking forward to International Connections Academy's increased flexibility.
One of International Connections Academy's first scholarship recipients in 2018, Killian Meehan of Connecticut, enrolled in the online private school in eighth grade seeking flexibility for his multi-passionate lifestyle. Between starring in a production of Charlotte's Web, daily hockey practice and a part-time job, Killian needed an academic environment that allowed for greater flexibility. Now, he's a senior in high school and hoping to double major in theatre and computer science/cyber forensics after graduation.
"The biggest advantage of International Connections Academy for me was the flexibility of it all," he said. "I had the ability to work on my schoolwork around the time I spent rehearsing for theatre, practicing hockey and working a part-time job."
International Connections Academy currently serves more than 980 students around the world who learn from home or anywhere there is an internet connection. Certified teachers and supportive counselors provide one-on-one attention and guidance through the college application process, leading to acceptances at many exceptional schools. iNaCA students may tailor their schedules to accommodate exam preparation and extracurricular activities, and take advantage of Career Technical Education offerings, world languages and AP® courses.
For additional information about the online private school and the enrollment process, the school is hosting complimentary online information sessions. International Connections Academy has also opened enrollment for its summer school offering beginning April 1, 2019.  
To learn more about International Connections Academy, available scholarships and to begin the enrollment process, visit the school's website.
About International Connections Academy
International Connections Academy (iNaCA) is an accredited, online private school serving students in grades K–12 throughout the United States and abroad. Recognizing individualized instruction as the key to student academic and personal success, iNaCA's highly trained, certified teachers offer instruction tailored to each student's strengths and challenges using an award-winning computer-based curriculum, real-time instruction, and time-tested course materials from leading publishers. In 2018, iNaCA served students in the US and 57 countries. International Connections Academy is part of the global learning company Pearson. For more information, visit http://www.InternationalConnectionsAcademy.com.