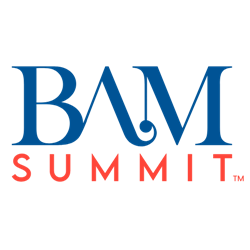 Most businesses achieve at most 25% of their potential. But what if you could take your business' potential to over 90% and achieve exponential growth and profits in record time?
SANTA MONICA, Calif. (PRWEB) May 23, 2023
Bicoastal award-winning marketing and public relations firm Marketing Maven and HOW CREATIVE®, the boutique, full-service business design firm, are teaming to launch the first annual Branding and Marketing (BAM) Summit in September 2023.
The event will take place at the Annenberg Community Beach House in Santa Monica, CA, September 21-22nd and focus on: How do you stand apart from your competitors and reach your true business potential?
"Whether you're a business owner, CEO, entrepreneur, or an inventor, your ongoing challenge is finding ways to dominate your market category. Today, more products and services are out on the marketplace than ever before, leaving the typical consumer overwhelmed with choices and overcome with indecision," says HOW CREATIVE and business and brand architect Howard Lim. "Most businesses achieve at most 25% of their potential. But what if you could take your business' potential to over 90% and achieve exponential growth and profits in record time?"
At BAM Summit, HOW CREATIVE® Founder Howard A. Lim and Carnett will show how to achieve maximum potential with exponential growth in revenue, profits, value, and equity. They'll demonstrate how to position your business or brand as a leader in its category and turn bystanders into buyers.
The BAM Summit® is comprised of five powerful sections:
Section 1: Via an in-depth overview, Lim explains why over 95% of businesses end up with a generic brand and how this caps their growth. He'll demonstrate how to create a world-class, leading brand by aligning brand strategy with brand image and Brand Identity, i.e., the DNA of Authentic Brands®.
Section 2: In a live online critique of attendees' business websites, you'll receive honest and critical feedback on your product, service, and company to help them go from good to great. In addition, Howard will advise you on how to improve your Brand Identity to attract your ideal customers.
Section 3: Lim will provide you with a workbook to check the health of your business. He will also engage you in a constructive conversation about your business, brand, sales, and marketing goals, and give you invaluable tools to instantly improve your position with current and future customers and company stakeholders.
Section 4: Carnett will show how to effectively scale your brand with competitive research. She will cover the reasons companies are most often prohibited from scaling, free things you can do to market your brand, storytelling through data, present a brand case study, discuss the development of personas, discuss best practices of influencer marketing and share a complimentary e-book. After this session, you will have a roadmap to ensure your brand is viewed positively in the minds and hearts of your customers.
Section 5: Lim and Carnett will host a live, interactive session to discuss the essential aspects of your business, including strategy, branding, marketing, and sales. This session is designed to help attendees overcome any obstacles or challenges to grow and scale their business operations with confidence.
"I look forward to sharing The Marketing Maven Method highlighting new approaches to marketing with attendees. These are actionable marketing tactics that business owners will be able to share with their respective teams and implement in their businesses immediately after the conclusion of the event," said Lindsey Carnett, CEO and president of Marketing Maven and co-host of BAM Summit.
"We are very excited to host an event which we believe to be like no other," says Lim. "The BAM Summit is designed to help companies maximize their profits through top-notch marketing and branding. We will take detailed looks at attendees' businesses and advise them of the best strategies to achieve their business goals."
You can register here: BAM SUMMIT (bamsummits.com).
About Marketing Maven
With offices in Los Angeles and New York, Marketing Maven is an award-winning full-service international marketing and communications agency. Nationally recognized as a trusted communications partner, Marketing Maven specializes in public relations, brand strategy, social media, digital, media relations, event marketing, market research, minority marketing and search engine optimization. Marketing Maven leads the industry in utilizing advanced metrics to measure marketing reach and providing competitive analysis unparalleled in the industry. Offering strategic counsel, we see the big picture and use creative tactics to achieve results. For additional information about Marketing Maven, visit http://www.MarketingMaven.com.
About HOW CREATIVE®
HOW CREATIVE has developed, implemented, and refined a comprehensive system for building a successful, world-class business. Using our proprietary SIM System™, we integrate Strategy, Implementation, and Management into a seamless process that can be successfully applied to every aspect of your brand.
By identifying a company's hidden potential and shifting its trajectory for exponential growth, our streamlined, highly effective approach is as economical as it is efficient, offering more value for your dollar while increasing market share. Faster than conventional strategic planning, branding, and marketing methods, our unique approach collapses time for accelerated outcomes, increasing company profits, value, and opportunities. For additional information about HOW CREATIVE, visit http://www.HOWCREATIVE.com.
# # #