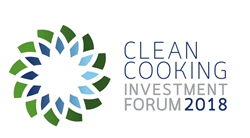 KIGALI, Rwanda (PRWEB) November 09, 2018
The first-ever Clean Cooking Investment Forum convened over 250 business leaders, investors, donors, and government representatives from over 40 countries to collaborate on the development of a global, sustainable clean cooking industry at scale.
Co-hosted by the Clean Cooking Alliance and Energy Private Developers Rwanda, the Forum amplified efforts to identify, support, and de-risk investment into businesses with the potential to massively expand the still-nascent clean cooking sector. Marking the start of Rwanda Sustainable Energy Week 2018, the event featured targeted panel discussions, an exhibition of clean cooking technologies, and a matchmaking session that resulted in more than 200 one-on-one meetings between leading businesses, market development organizations, investors, and policymakers.
Representatives from across the public and private sectors expressed their optimism and support for increasingly prominent efforts by the Alliance and others to create a sustainable, profitable market for high-impact clean cooking solutions.
"We all know that supporting clean cooking solutions makes common sense, but it also needs to make business sense," said Frédérique de Man, Ambassador of The Netherlands to Rwanda, in her opening remarks at the launch of the Forum. "My expectations for the next two days are high. What I find particularly stimulating is the mix of people in the room. Let's convincingly make the business case for clean cooking."
"There is a real chance for growth in the clean cooking sector, and that's why investors attended the Forum; this is patient capital at work," said Leslie Labruto, Global Energy Lead at Acumen, an organization that boasts over $110 million in impact investments since 2001. "Acumen is always looking to connect with ambitious local entrepreneurs, and this Forum was the perfect opportunity for that. The sector has been patient in its evolution, and now we believe the sector is ready to run."
"It is important that governments and the private sector develop clean cooking solutions as a matter of urgency," said Ambassador Claver Gatete, Minister of Infrastructure in Rwanda. "I wish to reiterate the Government of Rwanda's support for developing renewable energy."
"While maintaining our longstanding commitment to evidence, research, and global advocacy, the next years of the Alliance's work will increasingly focus on accelerating the growth of the clean cooking market, and doing so at scale," said Clean Cooking Alliance CEO Dymphna van der Lans. "This first Investment Forum has been a remarkable and visible start to that effort, but much more needs to be done. We look forward to ramping up our private sector engagement in the coming months, using our convening power to support models which can ultimately attract the billions of dollars in investments required to make clean cooking accessible to all."
The Forum was supported by the Ministry of Infrastructure in Rwanda, the European Union, the Rwanda Development Board, GIZ Energising Development Programme, SNV, Shell Foundation, BFZ, and the Africa-EU Renewable Energy Cooperation Programme.
****
About the Clean Cooking Alliance
The Clean Cooking Alliance works with a global network of partners to build an industry that makes clean cooking accessible to families around the world. Established in 2010, the Alliance supports the development, sale, distribution, and consistent use of clean cooking solutions that transform lives by improving health, protecting the environment, creating jobs, and helping consumers save time and money. Learn more about our work at http://www.CleanCookingAlliance.org.