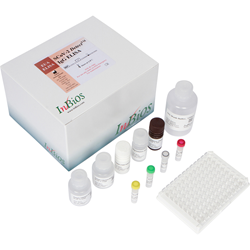 SEATTLE (PRWEB) June 11, 2020
InBios International Inc., a leading developer of diagnostic tests for emerging infectious diseases, announced today that it received Emergency Use Authorization (EUA) from the U.S. Food and Drug Administration (FDA) for its SCoV-2 Detect IgG ELISA kit, which detects IgG antibodies to SARS-CoV-2 in human serum.
InBios' COVID-19 antibody test is intended for use as an aid in identifying individuals with an adaptive immune response to SARS-CoV-2, the virus that causes COVID-19, which may indicate recent or prior infection. At this time, it is unknown how long antibodies persist following infection and if the presence of antibodies confers protective immunity. Testing is limited to laboratories certified under the Clinical Laboratory Improvement Amendments of 1988 (CLIA), 42 U.S.C. §263a, to perform high complexity tests.
Antibody testing for COVID-19 is needed to understand the pervasiveness of the disease within communities. The SCoV-2 Detect IgG ELISA kit, which is available to order now, includes all reagents and controls required to run 90 test specimens with results in approximately 2 hours. No specific analyzer is required for this assay, making it versatile and suitable for many qualified laboratories. In performance studies, the kit demonstrates 97.8% sensitivity and 98.9% specificity. InBios has a record of success in bringing high-quality ELISA kits to the world market. In 2011, InBios was the first to be granted a 510(k) clearance from the FDA for its Dengue IgM ELISA kit and offered the first commercial Zika IgM ELISA under FDA's EUA in 2016. The kits are well established and continue to support accurate diagnostic testing in the US and worldwide.
Dr. Syamal Raychaudhuri, InBios' chief scientific officer, said, "InBios' long-term commitment to quality sets us apart as we worked to develop and validate this SARS-CoV-2 antibody test. While we all know speed is of the essence when it comes to diagnostics for emerging diseases like COVID-19, it is equally important to assure that quality and performance allow true insight into who might have an adaptive immune response to this virus."
InBios offers other products for COVID-19, including the Smart Detect SARS-CoV-2 rRT-PCR Kit, which received an FDA EUA in April. InBios is also developing an ELISA kit for SARS-CoV-2 IgM antibody detection, as well as the SCoV-2 Detect IgM/IgG Rapid Test.
In response to the worldwide pandemic, InBios has ramped up production of its COVID-19 diagnostic tests by increasing production capacity and automation in its state-of-the-art facility in South Lake Union area of Seattle, WA.
While the SCoV-2 Detect IgG ELISA kit has not been FDA cleared or approved, it has been authorized for use by the FDA under an EUA, which permits use of certain medical products that may be effective during a public health emergency, which was declared for COVID-19 on Jan. 31, 2020. The test is only authorized for the duration of the declaration that circumstances exist justifying the authorization of emergency use of in vitro diagnostic tests for detection and/or diagnosis of COVID-19 under Section 564(b)(1) of the Act, 21 U.S.C. § 360bbb-3(b)(1), unless the authorization is terminated or revoked sooner.
For more information about InBios COVID-19 tests, visit: http://www.inbios.com/covid-19/.
For more information on COVID-19, please visit http://www.cdc.gov or http://www.who.int.
About InBios: InBios International Inc. specializes in the design, development and manufacture of diagnostic assays for emerging infectious diseases and biothreats. Founded in 1996 in Seattle, WA, InBios offers superior quality products which are accurate, easy to use and cost effective. InBios offers an extensive catalog of life science reagents, along with a portfolio of more than 25 diagnostic products, including the FDA Emergency Use Authorized Smart Detect SARS-CoV-2 rRT-PCR Kit and FDA-cleared ELISA kits for Zika, dengue, and West Nile and rapid test kits for Chagas and leishmaniasis. InBios is GMP compliant, FDA registered, USDA licensed and ISO 13485:2016 certified. For more information, visit http://www.inbios.com.