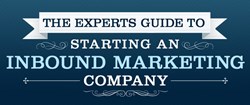 Inbound Authority is on the cutting-edge of a global transformation. According to Elance.com, 2013 is the "year of the freelancer".
West Palm Beach, Florida (PRWEB) August 31, 2013
The reason for such a strong statement lies in the fact that 25 percent of graduating college students are not applying for jobs, but rather starting their own companies. Inbound Authority is a company founded upon freelance principles and in today's job market it seems that high-quality talent and cost-effective marketing has undergone a revolution. The shift from large marketing organizations to small internet marketing companies has made major waves in America's workforce.
Recent statistical evidence has proven the potential in starting an inbound marketing company, yet many business owner hopefuls are stuck wondering what the first step should be. While a knack for inbound marketing and a strong entrepreneurial motivation are imperative, launching a company is far more complex than many imagine. Inbound Authority began with a passion and grew into a successful inbound marketing organization without coincidence. The Expert Guide to Starting an Inbound Marketing Company provides a blueprint for talented freelancers and independent contractors looking to make a go of it.
Inbound Authority was able to pull the trigger into the online marketing space through a calculated set of strategic relationships and patience. Sharing this advice, Inbound Authority was given the opportunity to help a number of talented individuals to take the leap and start a new company. The Guide provided by Inbound Authority not only shares some of the useful tools and techniques used to achieve inbound marketing and organizational goals, but also provides an honest narrative. Learning from mistakes and growing from failures allows for greater future successes. Inbound Authority has endured countless mistakes and failures that paved the way for a new future.
About Inbound Authority
Inbound Authority is an internet marketing firm that has honed in on today's two-way online dialogue. Using inbound marketing tactics paired with a search engine optimization (SEO) methodology, Inbound Authority is able to drive meaningful, quality traffic to websites that result in high conversion rates. Merging innovation with proven SEO techniques, Inbound Authority is amongst the leading internet marketing organizations in West Palm Beach, FL. http://www.inboundauthority.com/