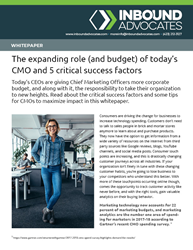 "The days of best-guess marketing are over."
CHATTANOOGA, Tenn. (PRWEB) March 27, 2019
Inbound Advocates, a Chattanooga based technology marketing agency, today announced it released guidelines based on recent research showing the increasing role of the CMO as a strategic decision maker in the enterprise. The whitepaper was crafted around this research as a tool for CMOs looking to modernize their marketing strategies.
The marketing agency which recently announced their partnership with marketing automation software vendor, SharpSpring released these guidelines in their whitepaper titled, "The expanding role (and budget) of today's CMO and 5 critical success factors" to empower CMOs when making purchasing decisions and using marketing technology, an industry that Forester predicts CMOs will spend $122 billion on by 2022.
"The days of best-guess marketing are over," said Inbound Advocates CMO, Tony Perri. "Marketing automation in conjunction with best-practice CRM has eliminated the way we used to handle the top of the sales funnel. With inbound marketing and the MarTech software available today, a salesperson doesn't have to waste time on the phone with a contact that is just looking for information. Marketing automation makes the process efficient for both the company and the prospect."
According to Gartner, the CMO will soon outspend the CIO on technology. This budget expands the CMO's freedom to equip his/her team with the best tools. However, more budget power means more responsibility on the CMO's shoulders to show exactly where amongst the data available from these new tools he/she can show they proved the ROI of these expanded budgets.
Since their introduction into the market, CRM and Marketing Automation tools have revolutionized the sales funnel process and empowered salespeople to spend less time going after low-interest contacts, and more time on leads that have been qualified through largely automated content and CRM contact processes. This revolutionary approach; however, depends on the ability of sales and marketing teams to effectively implement these tools and automate CRM funnel-progression tasks.
"What's interesting is that the research shows that the brand of CRM you use has less of an effect on the ROI of that investment than the level of buy-in from salespeople. I believe the same is true for marketing automation tools," said Perri. "What is important is that you have sales and marketing alignment for exactly how you plan to utilize these tools, and we've written this whitepaper to help CMO's work on that with their respective sales counterparts."
Among the guidelines in the whitepaper is research to help inform CMOs on the best-practice approach to MarTech tools from top industry analysts like Gartner and CSO Insights. Inbounds Advocates utilizes these tools with all their clients and see them as a crucial step to growing any business. The agency was founded in 2011 as primarily a content creating service. Inbound Advocates soon realized that great content is only as great as the actions it drives for the business, and the only way to accurately measure these actions is by implementing MarTech software into your sales pipeline.
Now, as a SharpSpring reseller, Inbound Advocates plans to take this data-driven, automated approach to ISVs to help them better compete with enterprise software giants.
"I'm thrilled these tools are becoming more cost-effective and accessible to small business owners like me. I help empower the SMV software community to compete with large software vendors and much of it is thanks to vendors like Sharpspring providing them to agencies at lower price points," said Perri.
To read Inbound Advocates' whitepaper titled, "The expanding role (and budget) of today's CMO and 5 critical success factors" visit inboundadvocates.com or email Tony Perri directly at moreinfo (at) inboundadvocates (dot) com