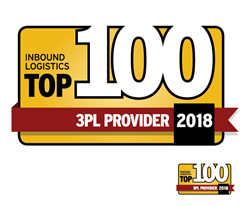 WESTFIELD, N.J. (PRWEB) August 01, 2018
Inbound Logistics magazine has named Romark Logistics, headquartered in New Jersey, as one of its "Top 100 Third-Party Logistics Providers" of the year, following a difficult review of logistics companies attempting to secure the designation.
"We are honored to receive this recognition from Inbound Logistics, as Romark Logistics and its affiliated companies across the country have been consistent innovators in the supply chain and logistics sectors," said Marc Lebovitz, company President. "We have earned long-term relationships with some of the leading food, beverage, commodities, pharmaceutical, supplement, vitamin, automotive, electronics and retail customers in the world."
Romark Logistics has grown to more than seven million square feet of industrial space throughout the country.
"Our success as a third-party logistics company is because we are customer-driven and results-focused," said Amy Lebovitz, the company's Executive Vice President. "Our tagline `Personalized Service…Always' is what drives our team to create better solutions for our customers. These are solutions that are flexible, with proven results."
Combining years of best-in-class supply chain management with cutting edge automation and fulfillment technologies, Romark has a proven track record of helping its customers achieve far greater efficiency and cost savings throughout their supply chain.
The Top 100 list appears in Inbound Logistics' July 2018 editions—magazine, digital, web & apps.
Learn more about Romark Logistics at http://www.romarklogistics.com