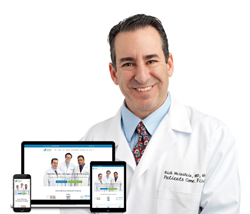 "Business used to be simpler for healthcare providers," said Garrett Smith, Founder of InboundMD. "The internet has fundamentally changed how caregivers and patients find, evaluate and decide to choose a provider for their care."
Buffalo, NY (PRWEB) November 08, 2016
Pitch + Pivot, a digital marketing agency, today announced the public launch of InboundMD, an all-in-one marketing solution for doctors, dentists and other healthcare providers.
InboundMD provides doctors, dentists and healthcare providers a powerful suite of tools and creative services for patient acquisition, reputation management and social media campaigns, all monitored and managed from an online dashboard.
According to Pew Research, 80% of US adult internet users have searched online for health information, making it the number one content topic online. With the rise in patient searches for health information and usage of the internet to find, compare, rate and share experiences, practice managers and providers now face a complex and daunting online landscape, often lacking the knowledge or time to manage marketing efforts themselves.
"Business used to be simpler for healthcare providers," said Garrett Smith, Founder of InboundMD. "Practice good medicine, then let word of mouth from friends and family, referrals from other providers, and being listed in insurance directories keep your schedule full. Today, being an excellent provider and relying on referrals no longer guarantees that patients will walk through your door. The internet has fundamentally changed how caregivers and patients find, evaluate and decide to choose a provider for their care."
"In order to grow today, practices must stay in front of new ways that patients are finding, hearing about and getting their provider recommendations online," said Arthur Miller, Director of Customer Success at InboundMD. "Many practices have needlessly fallen behind changing patient behaviors due to a lack of knowledge or time to manage their online presence. With the public release of InboundMD we're going to change that for thousands of practices nationwide."
With InboundMD, doctors, dentists and other healthcare providers get a complete marketing solution:

Website: Optimized for patients and search engines
Online Booking: Click-to-call and online patient appointment forms
SEO: Rank highly for terms patients are searching for online
Listings Management: Create, update, and optimize practice contact information on 300+ online profiles
Reputation Monitoring: Increase ratings and monitor profiles on online review sites like Healthgrades
Review Solicitation: Send text messages to simplify and encourage patients to leave reviews
Social Media: Engage with patients on social media with educational and promotional posts
Content Marketing: Build a digital library of medical information to establish subject matter expertise
Online Dashboard: Analytics dashboard tracks key online presence metrics and profiles
Practices, consultants and agencies that are using InboundMD have seen over 100% increases in website traffic, 200% improvements in search engine rankings and a 500% return on their monthly investment.
"When I was launching Westchester Sport and Spine, I knew I needed an edge to help me acquire new patients and drive awareness for the practice," stated Dr. Richard Weinstein, Director of Westchester Sport and Spine. "From their in-depth onboarding process where they helped me create a unique brand for my practice, to the great looking website and the results of ongoing marketing campaigns, the InboundMD solution has been nothing short of impressive."
"Measuring and showing return on investment to clients is crucial to any service provider, but often difficult to achieve with disparate software toolsets," stated Griffin Jones, Founder of Fertility Bridge, a digital marketing agency for fertility clinics. "With InboundMD everything is all in one place, helping us better optimize and track the efforts we take to bring in new patients to providers."
For more information about the InboundMD all-in-one healthcare marketing solution, please visit http://www.InboundMD.com.
About InboundMD
InboundMD is an all-in-one digital marketing solution for doctors, dentists and other healthcare providers. InboundMD automates internet marketing with an innovative software platform and creative services that allow healthcare practices to acquire desired patient cases, centrally manage their professional reputation and engage with patients through social content campaigns without having to be a marketing expert. For more information about InboundMD, please visit http://www.InboundMD.com.