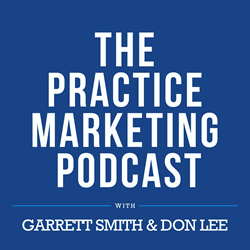 BUFFALO, N.Y. (PRWEB) January 16, 2019
InboundMD (https://InboundMD.com) today announced the launch of The Practice Marketing Podcast, a new podcast that focuses on how to market private healthcare practices on the internet.
Hosted by InboundMD CEO Garrett Smith, and healthcare IT consultant Don Lee, each episode of The Practice Marketing Podcast discusses the strategies and tactics Garrett has used over the past decade marketing private practices and health systems.
In each 15-to-20 minute episode of The Practice Marketing Podcast, listeners will get a chance to hear step-by-step roadmaps to practicing great marketing and getting the most out of their online presence – whether they are a solo practitioner just getting started or a larger practice looking to get the more out of their efforts.
"We're excited to announce the launch of The Practice Marketing Podcast," said InboundMD CEO Garrett Smith. "Podcasts are an increasing in popularity and are a great platform for us to further our efforts in educating practitioners and practice leaders on marketing. Despite the internet being around over two decades, many practices still do not have the prerequisite knowledge to properly market themselves and their practices. We're confident that the podcast will help fill the knowledge gap that currently exists and inspire all who listen to want to practice great marketing."
Here are just a few things listeners should expect to learn during the first season:
How to turn a practice website into patient appointment generating machine
How to ensure great visibility for related healthcare searches on Google
How to clean up medical listings and inconsistent practice data on internet directories and maps
How to create a prolific online reputation, drive positive patient reviews, and respond to negative feedback
How to improve patient engagement through blogging and social media
The Practice Marketing Podcast is now live on Apple iTunes and the Google Play store. The first four episodes are live. New episodes will be released every two weeks.
For information more about the podcast, including show notes, transcripts, and practice marketing resources visit https://inboundmd.com/podcast/.