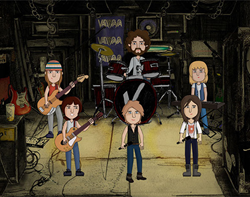 The Varidada platform has unlimited possibilities and works as a natural incubator for new genres and the next generation of rock star
San Francisco, California (PRWEB) June 27, 2017
Today, Varidada, Inc., a San Francisco-based startup passionate about the development of music technology, has confirmed that its state-of-the-art new website is set to make waves in the online music collaboration sector. With major scope for expansion, the sophisticated online platform allows everyone from everywhere to perform music which can lead to the ultimate online jamming sessions.
Equipped with cutting-edge audio technology and an innovative interface, Varidada's 8-strong team have made online music collaboration easy, fun and social. Users can perform their own instruments or integrate vocal parts of full-length songs exactly like professional musicians and singers do in a band scenario. The platform helps users to expertly mix audio tracks and present themselves as a hot virtual rock band.
"People make independent musical decisions and interweave with others, to produce much greater creativity than themselves," expressed, Ruofeng Chen, Founder, Varidada, Inc. "The Varidada platform has unlimited possibilities and works as a natural incubator for new genres and the next generation of rock stars."
Varidada's Founder is a former Member of the Distributed Music Group at Georgia Institute of Technology (Georgia Tech). His research focused on technologies to enable music collaboration and freedom of musical expression across a network. Varidada has brought this vision to life.
About Varidada:
Since 2016, the San Francisco-based Varidada, Inc. startup has made online music collaboration easy, fun, and social by allowing users to play any song, at any speed, with anyone, from anywhere. We aim to become the first choice for everyone who loves to sing and perform instruments to pursue further in their hobby and for music students, teachers, session/touring musicians, producers to build profiles that will help their career. After all, our motto is, "Rockin' in the Free World." We are proud to be Members of both the American BMI and ASCAP music rights organizations. Discover the future of online music collaboration today by visiting our new website: https://www.varidada.com/