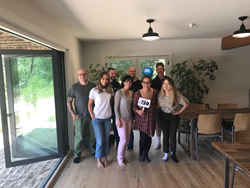 "We owe our growth to our clients, who are like family to us because they share the same vision for using science, design, and technology to effectively transform the health and wellness industry," said Dr. Kyra Bobinet, Founder and CEO of engagedIN
SANTA CRUZ, Calif. (PRWEB) August 21, 2018
Santa Cruz-based Neuroscience Design Company has grown 678% in three years
Neuroscience design firm engagedIN was named 730 on the Inc. 5000, the magazine's annual ranking of the fastest growing private companies in the U.S. Founded in Santa Cruz, California in 2013, the firm has become the secret sauce of innovators within the Fortune 500. engagedIN solves the brain-behavior gap™ by combining the latest research with a compassionate design approach to increase engagement and behavior change at scale.
The INC 5000 list, originally created in 1979, is widely regarded as a roadmap to the future engines of growth in America, and engagedIN revenues have soared 678% in just the past three years, placing the company in the top 15% of the list. The firm develops programs, workshops and technology focused on positive behavior change and healthy habits for top corporations to help their employees and customers to be more healthy, happy and productive.
"We owe our growth to our clients, who are like family to us because they share the same vision for using science, design, and technology to effectively transform the health and wellness industry," said Dr. Kyra Bobinet, Founder and CEO of engagedIN and author of the book, Well Designed Life. She added, "Our goal every day is to develop cutting-edge designs that empower employees to change their lives and patients to engage in their best health. While growth is nice, our greatest happiness comes from creating things that work with the brain, instead of against it, for greatest efficacy."
engagedIN has a number of exciting new product announcements scheduled for fall 2018, including a new habit formation platform that leverages artificial intelligence and neuroscience, one which is being co-developed with a Fortune 5 company. Dr. Bobinet is scheduled to speak at Health 2.0, September 16 – 18 in Santa Clara, where the product will be announced.