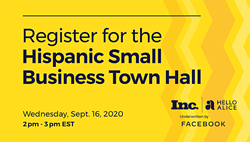 NEW YORK (PRWEB) September 16, 2020
Just seven weeks before the presidential election and days after the U.S. Senate gridlocked over extended relief for small businesses, American business magazine Inc. and digital platform Hello Alice are stepping in to help. Together they are launching three Hispanic Small Business Town Halls that will cover topics from getting funded to customer outreach.
"Hispanic entrepreneurs own one of every seven small businesses in the United States, and they need more help now than ever. With this town hall series, we hope to support these small businesses by providing vital information from experts, helping them not only survive but also thrive beyond the pandemic." --Scott Omelianuk, editor-in-chief of Inc.
"The pandemic has presented unparalleled challenges for the small business community, specifically for Hispanic founders, where an alarming two-thirds say they will be out of business in six months if current trends continue," said Carolyn Rodz, CEO and co-founder of Hello Alice. "Hello Alice and Inc. are dedicated to making expert insights, credible resources, and necessary tools accessible for all entrepreneurs."
The first virtual session will take place on Wednesday, September 16 at 2 p.m. ET, and will feature several investors including Eli Velasquez of VentureWell, Juliana Garaizar of Rising Tide Fund, and Lolita Taub of the Community Fund. During the one-hour session, moderated by Carolyn Rodz, co-founder of Hello Alice, they will discuss the current funding landscape, federal rescue programs, and specific opportunities for Hispanic small-business owners. They will also talk about the most effective cash-flow strategies and ways to obtain growth capital during an economic downturn.
The second session, on Friday, September 25 at 2 p.m. ET, will cover creative ideas to find new customers, retain existing customers, pivot a business, and successfully shift to e-commerce. And the third town hall, on Wednesday, September 30, will highlight the topic of leadership in these trying times. Experts including Mark Madrid of the Latino Business Action Network (LBAN) will discuss leading through a crisis, creating and maintaining excellent company culture, mental health and wellness, and managing a remote team.
ABOUT INC. MEDIA
The world's most trusted business-media brand, Inc. offers entrepreneurs the knowledge, tools, connections, and community to build great companies. Its award-winning multiplatform content reaches more than 50 million people each month across a variety of channels including websites, newsletters, social media, podcasts, and print. Its prestigious Inc. 5000 list, produced every year since 1982, analyzes company data to recognize the fastest-growing privately held businesses in the United States. The global recognition that comes with inclusion in the 5000 gives the founders of the best businesses an opportunity to engage with an exclusive community of their peers, and the credibility that helps them drive sales and recruit talent. The associated Inc. 5000 Conference is part of a highly acclaimed portfolio of bespoke events produced by Inc. For more information, visit http://www.inc.com.
ABOUT HELLO ALICE
Hello Alice is a free multichannel platform that helps businesses launch and grow. With a community of more than 200,000 business owners in all 50 states and across the globe, Hello Alice is building the largest network of owners in the country while tracking data and trends to increase the success rate for entrepreneurs. Our partners include enterprise business services, government agencies, and institutions looking to serve owners of small- and medium-size businesses and ensure increased revenue and promote scale. Co-headquartered in Houston and San Francisco, and founded by Carolyn Rodz and Elizabeth Gore, Hello Alice believes in business for all by providing access to all owners including women, people of color, veterans, and everyone with an entrepreneurial spirit. To learn more, visit http://www.helloalice.com, as well as Twitter, LinkedIn, and Instagram.