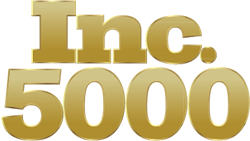 "We're delighted to be included in such a prestigious list and look forward to continuing our growth trajectory in the coming years."
CHICAGO (PRWEB) August 16, 2018
Zivra, a leader in Agile, DevOps, and Cloud Advisory Services, is No. 1016 on the 37th annual Inc. 5000, the most prestigious ranking of the nation's fastest-growing private companies. Ranking No. 1016 on the list with a 485 percent three-year revenue growth puts Zivra in the top 20 percent of list makers as a first-year recipient of the award.
"We are extremely pleased to be recognized by Inc. as one of the fastest growing companies in America along with the other companies that have demonstrated spectacular growth," commented Arthur Alvarez, Director of Sales and Marketing. "I attribute our rapid acceleration and success to a team of talented people working towards the goal of helping enterprises solve their IT automation challenges. The result is continuous growth when combined with a great technology offering and strong focus on customer service."
Chicago-based Zivra was founded in 2013 as the DevOps movement began gaining traction among IT organizations. Zivra has experienced huge growth due to the high demand for custom professional services as enterprises embark on their Agile/DevOps/Cloud transformation. Other recent accolades including Partner of the Year and Global Rising Star Partner awarded by CloudBees and Puppet respectively, two other technology leaders in the DevOps space, are a testament to the great service and customer focus that Zivra is providing to their clients.
"We're delighted to be included in such a prestigious list and look forward to continuing our growth trajectory in the coming years."
Not only have the companies on the 2018 Inc. 5000 been very competitive within their markets, but the list as a whole shows staggering growth compared with prior lists. The 2018 Inc. 5000 achieved an astounding three-year average growth of 538.2 percent, and a median rate of 171.8 percent. The Inc. 5000's aggregate revenue was $206.1 billion in 2017, accounting for 664,095 jobs over the past three years.
"If your company is on the Inc. 5000, it's unparalleled recognition of your years of hard work and sacrifice," says Inc. editor in chief James Ledbetter. "The lines of business may come and go, or come and stay. What doesn't change is the way entrepreneurs create and accelerate the forces that shape our lives."
Inc. 5000 eligibility requirements include being a privately owned, U.S.-based company and providing detailed financial information to determine growth rate in the specified time period. Companies are then ranked based on that revenue growth.
About Zivra
Zivra is an IT advisory services firm focused on providing insightful strategic consulting services with the goal of helping enterprises develop and implement their IT transformation strategy. Our mission is to promote strategic initiatives around DevOps, Cloud Strategy, Security, and custom Agile development to deliver services that increase the effectiveness of an IT organization during the development, testing, and production phases of project delivery.