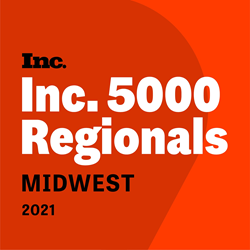 We are truly honored to be on the list with so many amazing companies. The keys to our success are the people of our company and the wonderful clients in our community." - Vinnie Fisher, CEO
FAIRLAWN, Ohio (PRWEB) March 17, 2021
Inc. magazine revealed that Fully Accountable, LLC is No. 121 on its inaugural Inc. 5000 Series: Midwest List, the most prestigious ranking of the fastest-growing private companies in Illinois, Indiana, Iowa, Kansas, Michigan, Minnesota, Missouri, Nebraska, North Dakota, Ohio, South Dakota, and Wisconsin. This list represents a unique look at the most successful companies within the Midwest economy's most dynamic segment - its independent small businesses.
The Midwest doesn't get much of the startup spotlight, but make no mistake: it is home to plenty of fascinating, fastest growing companies! One such company is Fully Accountable who is a medium sized business that provides full back office solutions to help small and medium sized eCommerce and digital businesses double their profit margin.
The companies on this list show stunning rates of growth across all industries in the 12 Midwest States. Companies that made the list of the Midwest grew, on average, 199 percent between 2017 and 2019-- even while the broader United States economy grew just 10 perfect. That's a result most businesses can only dream of.
As an Inc. 5000 Regional honoree, Fully Accountable now shares a pedigree with Intuit, Zappos, Under Armour, Microsoft, Jamba Juice, and many more.
About the Company:
Fully Accountable is a full-service outsourced accounting and fractional CFO company serving eCommerce, technology, and digital businesses throughout North America. The founders of Fully Accountable knew something needed to change when old services were being provided in a new world. And so they embraced new technology and unleashed their secret weapon: the most advanced full-service back office for your business.