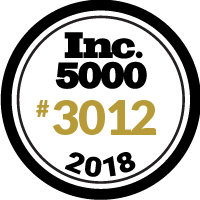 the response from self-directed investors and traders to our technology plus education model has been fantastic
ENCINITAS, Calif. (PRWEB) August 20, 2018
Inc. magazine today revealed that Trade Ideas is No. 3,012 on its 37th annual Inc. 5000, the most prestigious ranking of the nation's fastest-growing private companies. The list represents a unique look at the most successful companies within the American economy's most dynamic segment--its independent small businesses. Microsoft, Dell, Domino's Pizza, Pandora, Timberland, LinkedIn, Yelp, Zillow, and many other well-known names gained their first national exposure as honorees on the Inc. 5000.
2018 is the second year Trade Ideas makes the Inc. 5000 list. In 2017, Trade Ideas debuted on the list at no. 4,129 with 64% three-year sales growth and moves up dramatically in 2018 to no. 3,012 with 134% three-year sales growth this time.
"We are honored to be included on the 37th annual Inc. 5000 List again in 2018. It's a testament to our incredible subscriber growth, and an affirmation that our technology is leading the way in the financial technology sector. This honor underscores our team's commitment to delivering actionable intelligence that vastly improve investment decisions in today's difficult capital markets," said Dan Mirkin CEO Trade Ideas.
Over the last three years, Trade Ideas' organic, number of paying subscribers has grown by 302% and sales revenue by 134%. "We've been a technology leader and data partner in the FinTech space for over a decade, it's only in the last five when we seriously focused on selling subscriptions directly to consumers," explains Scott Olson, director of Marketing at Trade Ideas, "and the response from self-directed investors and traders to our technology plus education model has been fantastic. We bookend all subscriptions with online classes, continuing trader education, and robust support."
Companies on the 2018 Inc. 500 are ranked according to percentage revenue growth from 2014 to 2017. The minimum revenue required for 2014 is $100,000; the minimum for 2017 is $2 million.
Complete results of the Inc. 5000, including company profiles and an interactive database that can be sorted by industry, region, and other criteria, can be found at http://www.inc.com/inc5000. The 37th Annual Inc. 5000 Conference and Gala will be held in San Antonio on October 17-19, 2018 at the beautiful JW Marriott Resort & Spa.
About Trade Ideas
Trade Ideas creates actionable market intelligence for institutions, advisors, and self-directed investors to make consistently informed decisions mitigating risk and capturing alpha. As a SaaS Fintech innovator for over 13 years, Trade Ideas leverages algorithms derived from recursive, Machine Learning, Artificial Intelligence to develop trade plans and ideas and produce statistically tested, optimized performance results. Trade Ideas' inputs include Big Data sets from U.S. and Canadian market feeds, technical, fundamental, and non-structured data sets such as news and social media. Trade Ideas' client base is from around the world totaling more than 8,000 with operations in the U.S., Canada, China, and Europe.
CONTACT:
Marissa Goodbody, Director Media & Public Relations,
Trade Ideas LLC, (619) 821-8198, info(at)trade-ideas.com
More about Inc. and the Inc. 5000
Methodology
The 2018 Inc. 5000 is ranked according to percentage revenue growth when comparing 2014 and 2018. To qualify, companies must have been founded and generating revenue by March 31, 2014. They had to be U.S.-based, privately held, for profit, and independent—not subsidiaries or divisions of other companies—as of December 31, 2017. (Since then, a number of companies on the list have gone public or been acquired.) The minimum revenue required for 2014 is $100,000; the minimum for 2017 is $2 million. As always, Inc. reserves the right to decline applicants for subjective reasons. Companies on the Inc. 500 are featured in Inc.'s September issue. They represent the top tier of the Inc. 5000, which can be found at http://www.inc.com/inc5000.
About Inc. Media:
Founded in 1979 and acquired in 2005 by Mansueto Ventures, Inc. is the only major brand dedicated exclusively to owners and managers of growing private companies, with the aim to deliver real solutions for today's innovative company builders. Winner of the National Magazine Award for General Excellence in both 2014 and 2012. Total monthly audience reach for the brand has grown significantly