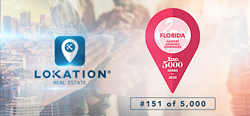 We have enjoyed a torrid pace of growth due to our dedication to our REALTORS®, support staff and combined use of bleeding-edge technology with exclusive partnerships giving our Agents a distinct advantage while providing the best commission payout in the industry - CEO Nathan Klutznick
NEW YORK (PRWEB) March 19, 2020
Inc. magazine today revealed that LoKation® Real Estate is No. 151 on its inaugural ranking of the fastest-growing Florida-based private companies. Born of the annual Inc. 5000 franchise, this regional list represents a unique look at the most successful companies within the Florida economy's most dynamic segment—its independent small businesses.
"We have enjoyed a torrid pace of growth due to our dedication to our REALTORS®, support staff and combined use of bleeding-edge technology and exclusive partnerships giving our Agents a distinct advantage to home buyers and sellers- all while providing the best commission payout in the industry." extolls CEO Nathan Klutznick.
The companies on this list show stunning rates of growth across all industries in Florida. Between 2016 and 2018, these 250 private companies had an average growth rate of 302 percent and, in 2018 alone, they employed more than 56,000 people and added $12.6 billion to the Florida economy.
"The companies on this list demonstrate just how much the small-business sector impacts Florida's economy," says Inc. Editor-in-Chief Scott Omelianuk. "Across every single industry, these businesses have posted revenue and growth rates that are beyond impressive, further proving the tenacity of their CEOs and their Leadership"
About LoKation Real Estate
LoKation® Real Estate is a vibrant company that's enjoyed inclusion in Inc. 500/5000 series for 5-years running which only a 2% of applicants achieve. LoKation also ranks came in at #54 in Real Trends ranking of the top independent brokerages in the Nation and has eclipsed over $1 billion in sales each year. Lokation covers all aspects of buying and selling – Real Estate, Mortgage, Title & Insurance services. With nearly 1,500 in Florida and Colorado with 12 offices, LoKation REALTORS assist people purchase their first homes, investors build their portfolios, businesses leasing space, homeowners looking to redevelop or build new homes and more. We arm our REALTORS® with the best technology and all the resources needed under one roof including the most efficient online platform for agents to operate from, allowing them to be free to conduct transactions from anywhere. We give back via our LoKation® Cares philanthropy initiatives in multiple states. Our commitment to our community, agents, and industry is evident through our actions.
More about Inc. and the Inc. 5000 Regional Series Methodology
The 2020 Inc. 5000 Regional Series is ranked according to percentage revenue growth when comparing 2016 and 2018. To qualify, companies must have been founded and generating revenue by March 31, 2016. They had to be U.S.-based, privately held, for profit, and independent—not subsidiaries or divisions of other companies—as of December 31, 2018. The minimum revenue required for 2018 is $1 million.