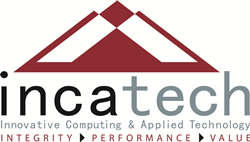 "With this expansion of our support to the DoD uniformed services under this new Navy contract, we will bring innovative technology to our warfighters, helping them to be more effective and safe" said Liliana Freedman, President & CEO
Reston VA (PRWEB) December 12, 2018
The US Navy announced the award of Seaport NxG (N00178-18-R-7000) to INCATech on December 4th. This award marks the second DOD Multi-Award contract for INCATech this year following the Army ITES-3S (INCATech is a subcontractor to DSA) award received in September. These two awards along with our current Defense and Intel contract allow for INCATech's further expansion beyond Civilian agencies into the Department of Defense.
INCATech will be marketing services to Navy customers across almost all of the 23 functional areas of the contract. In working with INCATech, Seaport NxG customer will not only receive great performance but also small business credits in both the 8(a) and WOSB socioeconomic categories. There is high demand within the Navy and Marine Corps for INCATech's core solution offerings of: Geospatial Information Systems (GIS); Enterprise Content Management (ECM); User Centered Design; and Cloud/DevOps.
The U.S. Navy Seaport NxG contract has a period of performance of 10 years with an expected value of $5 Billion in annual sales. While INCATech has already provided the Navy with SharePoint solutions to Fleet Forces, we see a wide range of GIS and ECM requirements across the commands that are addressable under Seaport NxG. Our solutions will provide advanced analytics, situational awareness, and real time decision support information to the war fighter.
"SeaPort" is the electronic procurement tool by which all Navy and Marine Corps contracting offices can obtain services through competitive and efficient means. Task Order requirements are developed, solicited, awarded and administered all within the SeaPort Portal. "SeaPort NxG" is the follow on to Seaport-e, but unlike its predecessors it has a streamlined structure. There is no longer a requirement to have a presence in the regional place of performance to be selected.
INCATech is an SBA 8(a) certified 100% Woman Owned Small Business and that has provided innovative technology to U.S. government and commercial customers for nearly a decade. Our expert teams apply Agile methodologies and use state-of-the-art products to achieve your mission goals and deliver breakthrough results. https://incatech-corp.com.
CONTACT at INCATech LLC:
Bruce Freedman
1900 Campus Commons Drive, Suite 410
Reston VA 20191
703-997-2081
Bruce.Freedman@incatech-corp.com