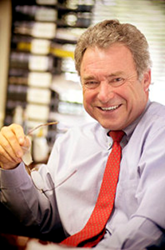 I felt that the industry had to follow what my clients were doing, which was developing more high-tech options," Damerow said, "not only in incentive travel, but incentives as a whole."
Atlanta, Georgia (PRWEB) June 19, 2015
Jeff Davis, host of the talk radio show "Atlanta's Business," recently invited guest Steve Damerow to the show in order to discuss Damerow's successful company Incentive Solutions, which provides sales channel and customer loyalty programs to businesses. By contributing first-hand experiences and expert industry advice, guests like Steve Damerow share strategies with local entrepreneurs and help Atlanta's business markets thrive. The interview podcast is available on the Incentive Solutions news blog.
In the interview, Damerow discussed the tactics that have made Incentive Solutions one of Atlanta's Best and Brightest Companies to Work For®, with 220 clients and a 95% "excellent" rating among them. Damerow cited early adoption of fresh technology as one of the factors that propelled his company ahead of his competitors. In the 90s, when Incentive Solutions was a new venture, the company began developing online rewards technology when the internet was still in its infancy. "I felt that the industry had to follow what my clients were doing, which was developing more high-tech options," Damerow said, "not only in incentive travel, but incentives as a whole."
Since then, Incentive Solutions has been offering businesses technology that helps them communicate their objectives, create training scenarios for those objectives, and offer a rewards system with immediate fulfillment and millions of merchandise, travel, and event ticket items. "Technology has allowed us to make it far more cost-effective and far easier for participants and administrators," Damerow said.
About "Atlanta's Business"
Jeff Davis' talk radio show "Atlanta's Business" provides in-depth perspectives of Atlanta commerce and interviews with local business owners. These commercial-free discussions give listeners valuable, first-hand insights into successfully running a business in Atlanta. "Atlanta Business" is part of the diverse News Talk 1160 AM station, which features political information, national and local news, and weather, along with advice on issues like marriage and finance.
About Incentive Solutions
Incentive Solutions, Inc. was founded in 1994 and is based in Atlanta, GA. Part of The ISI Group, consisting of Incentive Solutions, Loyaltyworks, and Travel Solutions, Incentive Solutions offers online rewards, travel incentives, and debit card reward programs. Since its creation, Incentive Solutions has been an innovator in the incentive industry by utilizing emerging online technologies that help companies increase sales, engage and motivate employees, encourage customer loyalty, create positive work environments, and enrich sales channel relationships.
Incentive Solutions
1-866-567-7432
2299 Perimeter Park Drive, Suite 150
Atlanta GA 30341