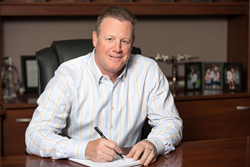 "I joined Incentive Solutions 16 years ago because I wanted to be a part of a company where I believed the possibilities were endless. I'm even more convinced that Incentive Solutions is that company today," said Mark Herbert, President and CEO
ATLANTA (PRWEB) August 13, 2018
Incentive Solutions, a leading incentive management company, announced that Mark Herbert has been named Chief Executive Officer, effective immediately. Herbert succeeds Steve Damerow, who led the company as Chief Executive Officer since the company's founding in 1994. Herbert will lead Incentive Solutions as both President and Chief Executive Officer.
Before his Incentive Solutions career, Herbert was Vice President of Incentives and Technology at WorldTravel Incentives and Meetings where he managed $60 million of incentive travel and meeting programs annually. Additionally, he oversaw the development of a software solution for the company's meeting and travel processes.
Herbert has more than 25 years of experience in the incentive industry overseeing business operations, 16 of which he spent at Incentive Solutions. Since joining Incentive Solutions in 2002 as President and Chief Operating Officer, Mark has spearheaded major incentive strategies and technical shifts across the company's portfolio of products and services, most notably the development of the Performance Tracking Module, a complete sales and marketing tool with data collecting and sales tracking capabilities.
"I joined Incentive Solutions 16 years ago because I wanted to be a part of a company where I believed the possibilities were endless. I'm even more convinced that Incentive Solutions is that company today," said Mark Hebert. "With The CapStreet Group's investment and our leadership, we look forward to having some of the best products and services available for our partners in business. We want to drive the behaviors that they, our customers, need to fuel their businesses, so there's a lot on the horizon for Incentive Solutions."
Incentive Solutions also announced that Steve Damerow will remain on the board as a member and as founder of the company. He will devote his attention to supporting Herbert and interacting closely with the board, with a focus on advancing Incentive Solutions' role in incentive technology. Steve Damerow has served as Chief Executive Officer since Incentive Solutions opened its doors in 1994. He was instrumental in the acquisition of Loyaltyworks, another incentive management company headquartered in Atlanta, Georgia.
"Our technological platform is what has differentiated us in the incentive industry," said Damerow. "And Mark Herbert is responsible for that. The incentive industry is at a crossroads where it must develop the technology clients want or risk losing market share. With Mark as CEO, Incentive Solutions will concentrate on developing more innovative technological developments. Mark has the vision and the plan to get it done. Gaining investment from CapStreet frees up Incentive Solutions to further distance ourselves from competitors."
Earlier this year, Incentive Solutions and The CapStreet Group out of Houston, Texas finalized a majority recapitalization deal. At the close of the deal, Incentive Solutions became the seventh investment for CapStreet IV, LP, which has $340 million of committed capital.
About Incentive Solutions
Incentive Solutions, Inc., founded in 1994 and based in Atlanta, GA, offers online rewards, travel incentives, and gift card rewards. From the beginning, ISI has focused on delivering more than just reward fulfillment, setting out to innovate the incentive industry by utilizing and developing emerging online technologies. Acting as valued partner and trusted advisor to clients, ISI helps organizations increase sales, motivate employees, build customer loyalty, create positive work environments, and improve channel sales relationships. For more information, visit http://www.incentivesolutions.com