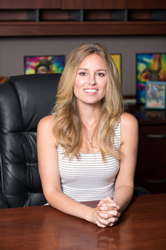 "Nichole holds other people accountable. She's really good at getting the people around her to operate at a higher level." - Mark Herbert, President & CEO, Incentive Solutions
ATLANTA (PRWEB) April 23, 2019
Earlier this quarter, Incentive Solutions promoted Nichole Gunn to VP of Marketing & Creative Services. Originally joining ISI as a marketing & communications coordinator, Nichole Gunn has been instrumental in bringing Incentive Solutions to the digital era, drastically increasing lead generation and web traffic since joining the company in 2008.
"I've seen Nichole grow and change over the last ten plus year," says Incentive Solutions President and CEO, Mark Herbert. "She's always been driven, but she's become a true leader over the last three to four years. The way she thinks about things, her ability to see the broader picture, and to develop strategies that take into account how what she's working on affects the whole organization."
Nichole Gunn was originally brought onto Incentive Solutions to review the way ISI communicated with their participants and to make improvements to the reward program. "My job," says Nichole, "was to systematically go through everything and say, 'OK, here's where the issues lie and here are things we need to consider.'"
Her no-holds-barred approach didn't win her many friends early on. But she took to heart the advice of Incentive Solutions' founder and for CEO, Steve Damerow, who told her, "Don't worry what the little people think. Just do your job." So she focused on taking things to the next level and on positioning ISI to succeed in the digital era.
Her dedication to her job was instrumental not only in Incentive Solutions' endeavors in digital marketing, but also in reshaping the organizational culture at ISI. Nichole Gunn led the charge for maternity leave and campaigned for a more casual, 'work hard, play hard' work environment, with flex hours and remote work days.
Her efforts have positioned Incentive Solutions' as a top landing spot for emerging industry talent (not coincidentally, Incentive Solutions has been recognized in the National Association for Business Resource's Atlanta's 101 Best and Brightest Companies to Work For® six years running).
"Nichole holds other people accountable," says Mark Herbert. "She's really good at getting the people around her to operate at a higher level."
Today, Nichole Gunn and her team manage and create all of the company's in and outbound marketing tactics. "I have been able to build a team of truly competent people, who want to learn and grow and who are never satisfied. I've been able to really surround myself with people who are constantly pushing to make it better."
Nichole credits Steve Damerow and Mark Herbert for helping her to grow into her role and for encouraging her to pursue self-development through conferences, certifications, and online courses. In spite of her past accomplishments and recent promotion, Nichole Gunn's focus remains set on the future:
"We have a great leadership team. The entire ISI team, all working together for the greater good, is committed to helping our fellow employees and clients stand out and grow. We want to be the best channel marketing company in the industry and I think that we have the technology to be able to do that. Getting to see what's coming is very exciting."
About Incentive Solutions
Incentive Solutions, Inc., founded in 1994 and based in Atlanta, GA, offers online rewards, travel incentives, and gift card rewards. From the beginning, ISI has focused on delivering more than just reward fulfillment, setting out to innovate the incentive industry by utilizing and developing emerging online technologies. Acting as valued partner and trusted advisor to clients, ISI helps organizations increase sales, motivate employees, build customer loyalty, create positive work environments, and improve channel sales relationships. For more information, visit http://www.incentivesolutions.com