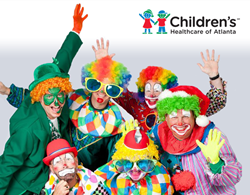 "In addition to the financial support we're able to provide to Children's Healthcare of Atlanta, being able to visit with the kids in the hospital seems to really make a difference. The kids love it." – Mark Herbert, President & CEO, Incentive Solutions
ATLANTA (PRWEB) November 19, 2019
This holiday season, the Distinguished Clowns, a group of Atlanta business executives and community leaders, are raising funds on behalf of Children's Healthcare of Atlanta (CHOA). For the ninth consecutive year, Incentive Solutions President & CEO Mark Herbert will be donning his face paint and garish costume to bring joy to children in pediatric care.
On Saturday, Dec. 7, the Distinguished Clown will begin the morning by visiting with children in pediatric care at Egleston Hospital, giving gifts and spreading holiday cheer to the children and their families. Later in the day, the clowns will be taking to the streets of Midtown Atlanta to march in this year's Children's Christmas Parade.
"In addition to the financial support we're able to provide to Children's Healthcare of Atlanta, being able to visit with the kids in the hospital seems to really make a difference," says Mark Herbert. "The kids love it. We're able to bring a smile to their faces, and share kind words with their families and their siblings, who are often sleeping in the room beside them. Overall, it's a powerful experience, with a diverse group of people coming together for the good of the kids, and it's an event that Incentive Solutions and our clients can really rally behind every year."
The costumes and transportation for the clowns are all provided for, so 100% of funds raised go directly towards the new Center for Advanced Pediatrics in Brookhaven, which provides streamlined care for children who require multispecialty healthcare (CHOA's 2019 fundraising goals are attached).
Since 1991, the Distinguished Clowns have raised more than $1.3 million to support pediatric healthcare in Atlanta.
Mark Herbert is accepting donations on his personal donation page at CHOA.org. The deadline for donations is Dec. 6, 2019.
About Incentive Solutions
Incentive Solutions, Inc., founded in 1994 and based in Atlanta, GA, offers online rewards, travel incentives, and gift card rewards. From the beginning, ISI has focused on delivering more than just reward fulfillment, setting out to innovate the incentive industry by utilizing and developing emerging online technologies. Acting as valued partner and trusted advisor to clients, ISI helps organizations increase sales, motivate employees, build customer loyalty, create positive work environments, and improve channel sales relationships. For more information, visit http://www.incentivesolutions.com.