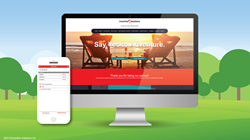 "In V5, we really wanted to bring the reward shopping experience to the forefront, and to give clients the tools they need to reinforce their brand." – Nichole Gunn, Vice President of Marketing & Creative Services, Incentive Solutions
ATLANTA (PRWEB) December 18, 2019
Atlanta-based incentive company Incentive Solutions has announced a systemwide upgrade for its proprietary SaaS-based loyalty program software. The update, known as V5, represents the latest evolution in loyalty program software, with streamlined admin controls and a more intuitive, rewarding user experience for loyalty program participants.
In addition to adding improved responsiveness and compatibility across all browsers and devices, Incentive Solutions worked with talented UX developer Erika Wright to overhaul the online reward shopping experience.
"When you look at loyalty programs, the reward catalog shopping experience is the component of the platform that builds loyalty and helps businesses stand out from their competitors," said Nichole Gunn, Vice President of Marketing and Creative Services at Incentive Solutions. "However, when we went out to market to do the research, we found that platforms in the incentive industry, across the board, were vastly behind the B2C-style user experiences that today's customers expect. In V5, we really wanted to bring the reward shopping experience to the forefront, and to give clients the tools they need to reinforce their brand."
The V5 upgrade also includes a streamlined design interface, new theme and layout options, and lock and preview modes to give businesses more flexibility and control when making updates to their loyalty program websites. Additionally, the upgrade gives admins more controls for transaction grouping, sorting, filtering, and exporting for improved reporting and enhanced data analysis.
As B2B companies strive to provide more digital, data-driven customer experiences and omnichannel communications, Incentive Solutions sees the V5 upgrade as a chance to help businesses position themselves as leaders in their channel. "Incentive Solutions already has the scalable, plug-and-play platforms that other incentive companies are trying to duplicate, which create vastly enhanced opportunities for speed, flexibility, and creativity," said Executive Vice President Jim Costello upon joining the company last month.
Incentive Solutions plans to continue to release updates to its modular loyalty program software in 2020, based on market research and feedback from their clients.
About Incentive Solutions
Incentive Solutions, Inc., founded in 1994 and based in Atlanta, GA, offers online rewards, travel incentives, and gift card rewards. From the beginning, ISI has focused on delivering more than just reward fulfillment, setting out to innovate the incentive industry by utilizing and developing emerging online technologies. Acting as valued partner and trusted advisor to clients, ISI helps organizations increase sales, motivate employees, build customer loyalty, create positive work environments, and improve channel sales relationships. For more information, visit http://www.incentivesolutions.com.