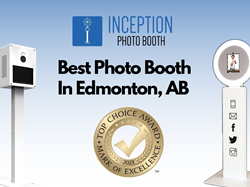 EDMONTON, Alberta (PRWEB) February 13, 2023
Inception Photo Booth is the photo booth of choice for event planning in 2023. The photo booth rental service is top tier when it comes to offering party goers a 5-star-experience. Instead of renting a boring old photo booth that sits in the corner, collects dust, and gets ignored by guests, Inception Photo Booth makes a point to create unique experiences while utilizing modern technologies and a sleek design. This has helped make Inception Photo Booth one of the most popular photo booth Edmonton rental services there is on the market.
Their 5-star rating is confirmed by 100's of reviews across all of their platforms like Google My Business, Facebook and Weddingwire. Not only this, but Inception Photo Booth has serviced thousands of events including brand activations, birthday parties, corporate functions, weddings, company holiday parties, and all varieties of special events.
Inception Photo Booth has also worked with a large number of top tier brands in order to coordinate services for extremely unique events like the Heartmelt motel done by Ivanhoe Cambridge Inc, the Grey Cup events for Alberta Blue Cross and pictures with the Easter Bunny for Leduc Chamber Of Commerce.
The photo booth rental service base packages come loaded with a wide variety of options to make it the perfect experience for any event, including props, backdrops, and even unique custom template designs to fit the exact nature of the event. By modernizing the photo booth Edmonton rental experience, the Inception Photo Booth brand continues to find new and innovative ways to keep photo booth rentals both interactive and engaging. After all, their main game is putting smiles on faces.
All-in-all, Inception Photo Booth is a top choice photo booth rental service for all and any events in 2023 and beyond.
###
About - Inception Photo Booth is not just a photo booth, it is an interactive experience you and your guests will love and remember for years.
Our Edmonton photo booth rental company is unique as we offer one of a kind products and services. We create a highly engaging experience and promise you a feeling of happiness as the end result. You will not be disappointed as we promise the most hassle free experience from start to finish!