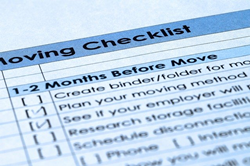 A checklist makes packing, moving and settling in much less stressful.
PASO ROBLES, Calif. (PRWEB) July 07, 2020
Taking the time to prepare for the movers is more than half the battle of getting packed, loaded and moved. Not only do the right preparations make for a smooth move, settling in is easier, too and the professional movers at Owen's Brothers Transfer, providing moving and storage for Incline Village and the Reno area have prepared a list of the top ways to prepare for a move.

Pack by room and mark the boxes. To help prevent breakage, pack fragile items with a lot of cushioning and clearly mark "FRAGILE" in several places on the box. It's a good idea to organize all of the boxes containing fragile items in one location. This way the moving crew can pack the moving van to protect those items.
Know what the movers can transport and what they can't. There are fewer restrictions for local moves within the same state. Some restrictions might apply when moving to another state.
Discuss moving insurance with the moving company and with your homeowner or renter insurance company.
In addition to labeling the boxes by room, assign each box a number and make an inventory of the contents. Put a copy of the inventory in the box and keep a copy for unpacking.
Dismantle furniture that can be dismantled for easy packing onto the moving van.
Make kenneling and transport arrangements for pets. Make sure pets are up to date on any required shots. Have the veterinary records handy in a folder that stays with you and the pets.
Arrange childcare and pet care for the day the movers arrive. The fewer distractions the faster the movers can work.
Make sure there is adequate parking for the moving van and easy access between the house and the van.
Check the weather. If it's raining or snowing, consider renting a tent to provide shelter between the van and house. Make sure wet or icy sidewalks are clear and safe to walk on.
Allow plenty of time to organize and sort. Most people also have to continue working while sorting through possessions and packing. Consider renting a dumpster to dispose of unwanted items and a small van to load with items that are being donated.
Owens Brothers Transport providing full service moving and storage for Incline Village and Reno areas specializes in:

Local moving and long distance moving— Move across town or across the country with confidence that your possessions are safely in the care of professionals. Our long-distance moving services included packing, timely delivery, and unpacking. Make your move across the state or to another state as easy as possible.
Packing, unpacking and custom crating — Take the stress of finding packing materials, worrying about how to move the antique glass curio cabinet or valuable office equipment, packing, and unpacking off of your list of things to do. We do it all.
Storage — offering full-service storage facilities for any size move or storage need including self-storage and delivering and picking up moving pods.
Owens Brothers Transfer
2589 Wildhorse Suite 6
Minden NV 89423
(530) 541-1299