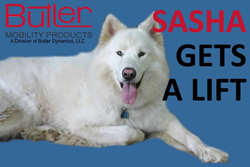 Inclined Platform Lift can be used for dogs, like Sasha.
Lewisberry, PA (PRWEB) August 28, 2014
Sasha is a 10-year-old Alaskan malamute, and is a very lucky dog! Sasha is getting a little older, and is having trouble getting up and down, and especially navigating stairs. But Sasha just happens to have an owner who purchased a Butler Mobility Inclined Platform Wheelchair Lift!
Her owner Judy had an accident vcs135and could no longer get up and down the stairs from main level of her home to her finished basement. She had tried a stair lift but had to transfer from her wheelchair to the stair lift chair, and then from the stair lift chair back into another wheelchair at the next level. Judy found getting on the stair lift at the top of the stairs was just a little too scary, and the transfer from the wheelchair to the stair lift chair and back was difficult.
Judy and her husband began to research what other accessibility options might be available for allowing Judy to access their finished basement. They were researching using the web and found Butler Mobility Product's Inclined Platform Wheelchair Lift. Butler's experienced sales staff spoke with Judy about her needs and her home's stairway configuration and determined that Judy was indeed a good candidate for a custom inclined platform lift.
Judy's inclined platform lift was installed in her home, and she finally had safe access to the basement of her home. Judy again felt as though she could be independent in her own home. At the same time, Sasha was now struggling to be able to keep up with Judy. Judy's husband began to use the lift to help Sasha to navigate the stairs from the basement to the main floor. Sasha quickly learned to appreciate Judy's wheelchair lift. Now when Sasha is in the basement and wants to go back upstairs, she goes over to the Butler inclined lift, lays down on the platform and looks at her owners as if to say "Push the button – I'm ready to go back upstairs!"
Watch Sasha on her YouTube debut using the Butler Inclined Platform Lift.
https://www.youtube.com/watch?v=eaOJmv993UY
Butler Mobility's inclined platform wheelchair lift has helped countless homeowners to better navigate their homes. Installing a lift for an individual who has always been confined to one floor of their home provides freedom for that person and allows them to move easily and freely between multiple floors of their home. The Butler inclined platform wheelchair lift has helped many homeowners to restore their quality of life, mobility and personal independence.
Butler Mobility lifts are known in the industry as "The Lift that Lasts". Butler's platform lifts are proudly made in the USA. Call toll free at 888-847-0804 and let Butler's experienced sales team help you with your home accessibility needs, or visit us on our website at http://www.butlermobility.com.
Media Contact
Patricia Small
717-938-4253
psmall(at)butlermobility(dot)com