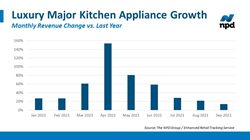 "This year has been about shifting last year's elevated focus on the home from the outdoors to the indoor spaces," said Joe Derochowski, home industry advisor at NPD.
PORT WASHINGTON, N.Y. (PRWEB) November 18, 2021
Surges in consumer spending on major appliances and home-improvement products for the kitchen indicate big upgrades have been in the works 2021. Sales of luxury major kitchen appliances, including refrigerators, cooktops, and ovens, increased 45% in the United States, year over year, from January through September 2021. Kitchen cabinets and kitchen sinks were among the categories leading growth in the kitchen and bath home-improvement segment this year, according to The NPD Group.
"This year has been about shifting last year's elevated focus on the home from the outdoors to the indoor spaces," said Joe Derochowski, home industry advisor at NPD. "Following a year of working from home, limited expenditures on travel and other activities, many consumers found themselves in new living spaces and with more disposable income to make those spaces their own."
Combined sales of kitchen sinks, cabinets, and countertops grew nearly 40%, so far this year. It is likely that more of these products are being purchased for professional remodels, than for smaller do-it-yourself (DIY) projects, as older consumers with more disposable income and less DIY inclination represent the majority of sales. Among kitchen and bath home-improvement products, 42% of spending came from consumers who were age 55 and older.
By the end of September, luxury major kitchen appliance sales had already surpassed total revenue from last year. The category experienced significant growth during the first half of the year, as consumers got an early start on remodeling projects. While the upward trend continued through the third quarter, growth was slower than the months that preceded it.
March and June accounted for more than a quarter of the luxury cooking and cooling appliances, dishwashers, microwaves, beverage centers, and ice makers sold between January and September 2021. The biggest movers this year have been French-door refrigerators, which recorded nearly 72% revenue growth, capturing the highest absolute sales-revenue gains across all major kitchen appliances, versus the same period a year ago.
"Double-digit gains on these kinds of big-ticket items points to the beginning of something bigger," added Derochowski. "This year's emphasis on major home improvements, coupled with greater comfort with entertaining others inside the home, will make the holiday shopping season and the year ahead an exciting period filled with opportunity for all things related to the kitchen."
###
About The NPD Group, Inc.
NPD offers data, industry expertise, and prescriptive analytics to help our clients grow their businesses in a changing world. Over 2,000 companies worldwide rely on us to help them measure, predict, and improve performance across all channels, including brick-and-mortar, e-commerce, and B2B. We have services in 19 countries worldwide, with operations spanning the Americas, Europe, and APAC. Practice areas include apparel, appliances, automotive, beauty, books, B2B technology, consumer technology, e-commerce, fashion accessories, food consumption, foodservice, footwear, home, home improvement, juvenile products, media entertainment, mobile, office supplies, retail, sports, toys, and video games. For more information, visit npd.com. Follow us on Twitter: @npdgroup.
NPD's Checkout service offers robust data for tracking and improving performance across all channels plus buyer analytics to help businesses keep current customers and win new ones. Over 130,000 consumers, the largest omnichannel panel focused on general merchandise and foodservice, provide us with receipt-based information on their in-store and e-commerce purchases. With comprehensive data from the same consumers over time, Checkout illuminates trends in behavior including migration to shopping online by category and consumer demographics. Buyer analytics deliver insight into most valuable customers, brand loyalty, brand leakage / lift, brand launches, and more.
Contact:
Janine Marshall
janine.marshall@npd.com