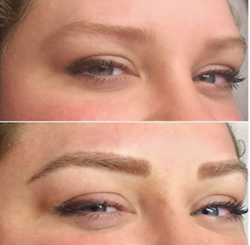 Many women find that that the time it takes every day to beautify their eyebrows is slowing down their fast-paced life;
BEVERLY HILLS, Calif. (PRWEB) September 07, 2018
An August 21 article on 1843 describes one writer's experience with trying out microblading at a UK salon. The article notes that, due to growing interest in beautiful eyebrows at least partly spurred by the famed brows of supermodel Cara Delevingne, microblading in the British Isles has grown by an impressive 424% since last year. Beverly Hills Permanent Makeup, a salon serving clients from throughout Greater Los Angeles and Southern California, says that the English growth trend is similar to what the salon is seeing in its increasingly large roster of enthusiastic clients.
The salon says that there are many reasons women in Los Angeles are taking to microblading. Specifically, many women find that that the time it takes every day to beautify their eyebrows is slowing down their fast-paced life; others are amateur or professional athletes who want to look their best without having to worry about sweating causing their makeup to run. The salon notes that microblading and permanent makeup are also often sought out by those with disabilities and conditions that make eyebrow makeup difficult or impossible to do. Also, both men and women who have lost or don't have eyebrow hair because of a medical condition or aging turn to the practice because of the stunning realism of the results, which few observers can distinguish from natural eyebrows.
Beverly Hills Permanent Makeup says that, while the writer of the 1843 article describes microblading as somewhat expensive, it goes out of its way to make its services affordable for a broad range of people. It adds that potential clients should not be intimidated by its 90210 address and that its prices are competitive with other providers. The salon goes on to say that its lead makeup artist, Elle, is one of the most experienced and highly respected microblading practitioners in California. It notes that she has had many years of experience as well as training that goes far beyond the legal licensing requirements. The salon adds that Ellie's services are recommended by some of L.A.'s finest medical doctors.
Beverly Hills Permanent Makeup also offers eyeliner, eyelash, and lip enhancement. For women having reconstructive surgery after breast cancer treatment, microblading can also be used to replace areolas. Readers interested in learning more about microblading are invited to reach out to Ellie and Beverly Hills Permanent Makeup by calling (424) 332-5236. They can also visit the salon's web site at https://www.bhpermanentmakeup.com/.