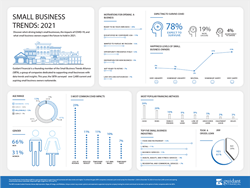 BELLEVUE, Wash. (PRWEB) April 13, 2021
Guidant Financial, the largest provider of 401(k) Business Financing (aka Rollovers for Business Start-ups) in the nation, has seen a substantial increase in positive outlook in starting and growing small businesses as the US economy reopens. Guidant itself saw a 22.5% increase in small businesses funded in March.
One of the founding members of the Small Business Trends Alliance, Guidant's Small Business Trends report, released in February, showed optimism among small business owners, with nearly half of respondents feeling either somewhat or very confident about the future of small business post-pandemic. As of December 2020, 78% of small business owners expected their business to survive COVID, while only 4% expected to fail, and the rest were unsure.
With strong signs of reopening, increased small business financial aid, and a broad vaccine rollout, these signs of optimism and success have grown. The World Bank forecasts the US GDP to grow by 4% in 2021, with global potential of up to 5% with strong pandemic control and a successful vaccination program.
"Internally, we're seeing more people excited the opportunities they see as a result of the pandemic," said David Nilssen, Guidant's CEO. "In addition, what we're hearing from many of our existing clients, is that they are growing again with plans to expand through 2021 and beyond."
A substantial part of small business in America, the franchising industry is a major component to positive outlook. The International Franchise Association's Economic Outlook for Franchising report projects over 26,000 new franchises will open in 2021, employing approximately 8.3 million workers and adding almost 800,000 new jobs to the American economy. The report also projects franchise output to grow by 16.5%, contributing a total of $780 billion to the GDP.
Small Business Trends Methodology
The Small Business Trends Alliance, an organization comprised of Deluxe, Guidant Financial, MyCorporation, Flippa, FRANdata, and AP Intego, conducted a joint email survey from December 1, 2020 to December 18, 2020 of more than 2,400 current and aspiring small business owners nationwide.
About Guidant Financial
Guidant Financial helps business owners secure financing to start, buy, or grow a business. An industry leader in business and franchise financing, Guidant works with new and existing entrepreneurs to identify, evaluate, and deploy customized financing solutions. Their services include, but are not limited to, 401(k) business funding, SBA loans, unsecured credit, and portfolio loans. In total, Guidant has helped over 20,000 entrepreneurs in all 50 states to invest more than $4 billion in funds to start small businesses, resulting in more than 85,000 U.S. jobs created. Visit Guidant at guidantfinancial.com.
About the Small Business Trends Alliance (SBTA)
Founded in 2019, the Small Business Trends Alliance (SBTA) is a group dedicated to supporting small businesses with data trends and insights. These data-backed insights are intended to help small business owners confidently make key decisions, and to bring transparency to small business for prospective entrepreneurs to learn more about their options. The 2020 SBTA includes Guidant Financial, Deluxe, Flippa, MyCorporation, FRANdata, and AP Intego.