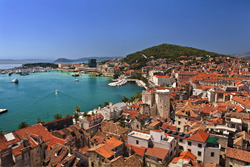 RICHMOND, British Columbia (PRWEB) May 03, 2021
WESTERN EUROPE WITH A TASTE OF PORTUGAL FROM $999
Home to architectural wonders and world-famous attractions, Western Europe should be at the top of every traveler's bucket list. And one of the best countries to begin your journey is Portugal. From the cobbled streets of Lisbon to the breathtaking Douro River of Porto, this Southern European country has plenty to offer. Beautiful scenery, picturesque landscapes, and rich history await travelers looking to explore the land. Starting at $999 including flights, this Indus Travels 8-day tour of Portugal will guide you through the quaint villages, golden beaches, and fine port wines. Book and receive $600/person discount! Option add more days through Western Europe with these magnificent tours of Spain, Portugal and Morocco. Ancient buildings, extravagant cultures, and the warm Mediterranean climate await!
CENTRAL EUROPE WITH CROATIA, THE BEST OF THE ADRIATIC – 12 DAYS FROM $2299
Croatia is one of the growing treasures of Central Europe. Magnificent architecture and gorgeous coastlines are commonplace to this Adriatic haven. The coastal country offers a fascinating mix of Romanesque, Renaissance, and Baroque architecture lined with colorful houses and crystal-blue waters. Starting at $2299 including airfare, this 12-day Indus Travels special showcases the Best of the Adriatic as you explore the old town walls of Dubrovnik, World Heritage Sites in Split, and the extraordinary topography of Ljubljana. Discover the natural beauty of Croatia and Slovenia and take in the magical scenery and rich history these countries have to offer. Discover the magnificent scenery and man-made beauty of Bosnia and Herzegovina, Slovakia, Serbia, Macedonia, and other breathtaking destinations with Indus Travels.
NORTHERN EUROPE WITH UNFORGETTABLE IRELAND
From evergreen hills to breathtaking castles and international festivals, visitors will have plenty to explore. And one of the best countries to begin Europe travels is Ireland. Starting at $1950 including flights, this 9-day Indus Travels tour of Ireland will guide you through legendary attractions you have only dreamed of. Experience the lively atmosphere of the Emerald Isle. Explore the legendary Cliffs of Moher, admire the magical scenery of County Kerry, and kiss the Stone of Eloquence at Blarney Castle. Book Unforgettable Ireland & get 50% discount or expand your journey with these fascinating tours to Northern Europe, and discover the awe-inspiring beauty of Scandinavia, Germany, Russia, the Baltics, and Great Britain.
SAFE TRAVELS ASSURED
Concerned about safety? Let us put your worries at ease. At Indus Travels we always make the health and safety of our travelers a priority. Indus has created a set of standards with specific precautions set in place to create a safe travel environment for all passengers and staff.
Bookings will be scheduled with the ability to postpone, change dates, and cancel your trip within 60 days of departure. Vehicles will be sanitized before each trip and operators will follow World Health Organization (WHO) guidelines. We strictly handpick hotels that follow WHO health and safety guidelines. Learn more about the Safe Travels Assurance Policy.
For further information,
Contact: Praveen Syal,
Indus Travels Inc.
233 – 11951 Hammersmith Way
Richmond BC V7E 1H8
Canada
Tel. 604 279 8794
http://www.indus.travels