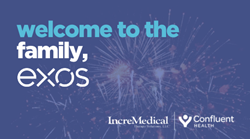 "Since opening our doors, our mission has been to help our clients reduce cost and prevent readmissions. We are delighted that this partnership will allow us to continue this mission and reach more people than before." - Greg Cooper, Managing Partner of IncreMedical
PHOENIX, Ariz. (PRWEB) November 28, 2022
IncreMedical Therapy Solutions (IncreMedical), a member of the Confluent Health family, is proud to announce their expanded footprint will span 21 additional managed locations across 8 states with the recent acquisition of the Managed Services Agreement (MSA) division of Exos, a corporate wellness provider and physical therapy company.
"We couldn't be more excited to join the IncreMedical family," said Exos' VP and General Manager, Brett Rivers, PT. "We have an incredibly talented team and amazing medical partners. We have worked hard to build the MSA business at Exos and have been in search of a reputable business partner that can help us continue along our growth trajectory. IncreMedical is an established leader with a reputation for superior customer service and quality care. We can't wait to see what this partnership will bring!"
While patients will continue to see the same compassionate care and services from Exos, the clinical team will have greater access to the nationally recognized physical therapy education company Evidence In Motion, the leading provider of employee safety, Fit for Work, and other valuable business resources.
"We are thrilled to welcome the Exos MSA business to the IncreMedical family," said Greg Cooper, Managing Partner of IncreMedical. "Since opening our doors, our mission has been to help our clients reduce cost and prevent readmissions with an emphasis on population health and improved outcomes for patients. We are delighted that this partnership will allow us to continue this mission and reach more people than before."
"We are proud to partner with IncreMedical and are excited to welcome the MSA business of Exos to the Confluent family" says Confluent Health's President and CEO Larry Benz, PT, DPT, OCS, MBA, FAPTA. "Greg's entire team are pre-eminent clinical leaders and bringing in Exos is going to add significant value as we grow together. Our partnership has endless possibilities."
This partnership will further expand IncreMedical's existing footprint of 41 locations across Indiana, Georgia, and Wyoming to Arkansas, California, Colorado, Florida, Louisiana, Montana, Oklahoma and Tennessee.
For more information about IncreMedical please visit Confluent Health's official release. For more information about Exos, or to meet with one of their expert therapists, please visit https://www.physicaltherapy.teamexos.com/ for location information and phone numbers.
###
About Incremedical Therapy Solutions:
Incremedical provides post-acute management services for Accountable Care Organizations, Hospitals, and Physician Practices to include physical therapy, risk stratification, and patient engagement strategies with a focus on preventable hospital re-admissions. Incremedical Therapy Solutions serves clients and patients in Georgia, Indiana, and Wyoming.
About Confluent Health:
Confluent Health is a Louisville, Kentucky-based private holding company focused on creating a healthcare system that recognizes physical and occupational therapy providers as the Best First Choice for preventing and managing musculoskeletal and movement disorders. Confluent Health offers the following management services: evidence-based practice, patient loyalty, regulatory assurance, marketing and branding, clinic operations, hiring and retention, strategy, accounting and finance, and customer service to Incremedical Therapy Solutions, Advanced and Preferred Physical Therapy, Baton Rouge Physical Therapy-Lake, BreakThrough Physical Therapy, Capitol Physical Therapy, Colorado in Motion, Confluent Physical Therapy, El Paso Physical Therapy Specialists, the Evidence In Motion family of companies, Fit For Work, HPRC, Lake Center for Rehab, Mountain River Physical Therapy, OSPT, Pappas | OPT Physical Therapy, Physical Therapy Central, ProActive Physical Therapy Specialists, ProRehab Physical Therapy, PTPN, Redbud Physical Therapy, Rehab Therapy Works, RET Physical Therapy Group, SporTherapy, TOSPT, Texas Physical Therapy Specialists, Western Berks Physical Therapy and Wellness Group and Xcel Sports Medicine. Together, these companies share a common ownership team and are committed to developing a learning, purpose, and coaching culture.